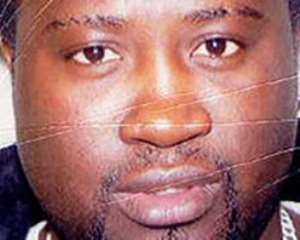 John Nii Abbey - killed on way to see new baby
Police have been granted more time to question a man in connection with the murder of a man who was travelling with his three-year-old daughter to see his newborn son
Ghanian-born John Nii Kacsu Abbey died at a bus stop in Croydon, south London from a single stab wound to the heart on Thursday evening.
The 26-year-old boxer from Croydon, south London - who was known to his friends as King - was travelling to see his wife who had given birth earlier the same day.
Mr Abbey's family was too upset to speak to reporters but his wife reportedly told staff at the Ghana High Commission in London that she was consumed by grief.
The 22-year-old man was arrested on suspicion of murder after turning himself in at a south London police station. Officers have been given until Sunday evening to hold him.
Detectives said Mr Abbey became involved in an argument with a second man, believed to be a former colleague, before the fatal blow was struck.
They are appealing for two teenagers wearing hooded tops, who fled the scene and may have been involved in the scuffle, to come forward.
Security guards at a nearby office described how they took Mr Abbey's little girl away after she was left watching in horror as paramedics desperately tried to save her father's life on the pavement.
One staff member said: "I said she shouldn't be watching something like that, I asked around to see whose child she was and somebody said she was the victim's, so I took her away into our building."
He said that the three-year-old was "in shock, her eyes were wide open". She was muttering under her breath occasional words like "mum" and "Mayday".
Source: Evening Standard