'President' Mills frowns on electoral irregularities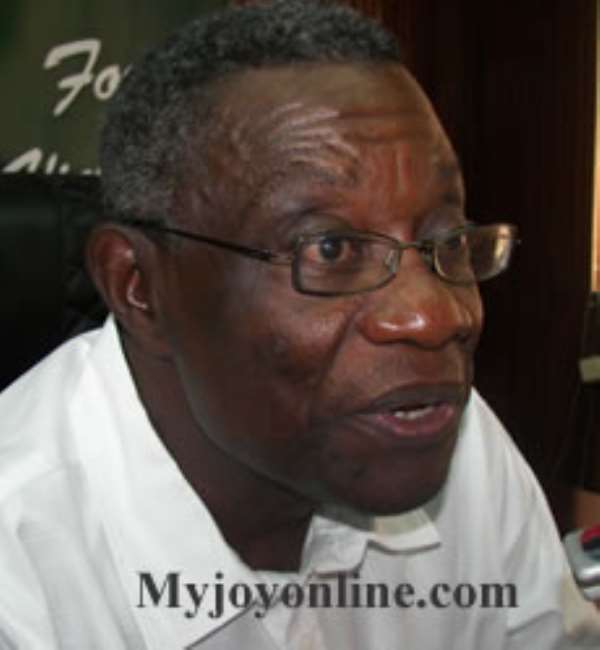 Prof. Atta Mills have contested the presidency on three consecutive times
Prof. John Evans Atta Mills, the yet-to-be-declared president-elect of Ghana, has utterly condemned the intimidation and violence that characterized the Sunday's presidential runoff.
Even though the EC is yet to come out with its official declaration, Joy FM has projected victory for Prof. Atta Mills, presidential candidate of the National Democratic Congress (NDC).
He told the media at his Kuku Hill office at Osu in Accra that he would stamp these misdemeanour out of Ghana's electoral system.
"We will continue to pursue these issues so that we come to some logical conclusion so that they don't become a feature of our electoral process," he said beaming with smiles.
He said his party, NDC, raised various allegations with regard to the 2008 elections and the runoff, not because "they were losing" the election but was to draw attention to the irregularities and lapses, which "detracted the beauty of the process".
"What is true will always be true," he remarked.
Prof. Mills reiterated his commitment to ensure that he becomes a president for all Ghanaians without discriminating against anyone, adding, his government would not be in a haste to ask people to proceed on leave as he claimed was done by the current administration.
He said he has no plans of "expanding the Nsawam prison" ostensibly to jail his political opponents. He explained: "certainly that is not our priority, our priority is to get on with our programmes and as we go along, if there is any issue for us to address, we will address."
He said he was not surprised at all by the outcome of the election because "I always said that I was confident that I was going to win".
Estatic crowd

Hundreds of fans thronged his office on Monday afternoon

Even though the Electoral Commission is yet to officially declare him the winner of the presidential runoff, supporters of NDC have already taken to the streets to celebrate the party's victory. Hundreds of jubilant party functionaries, supporters and leading members of the NDC took the euphoria to the flag-bearer's Kuku Hill office. Appearing ecstatic, they danced to party tunes amidst hugging, jumping, shouting and flying of party flag and paraphernalia.

However, Prof. Atta Mills has appealed to his supporters to be cautions of how the mark the merry making in order not to "raise tension but to ensure that at the end of the day we all be a united group." He noted: "We would not call for formal celebration or anything like that. No. I believe it will come spontaneously."

Story by Isaac Essel