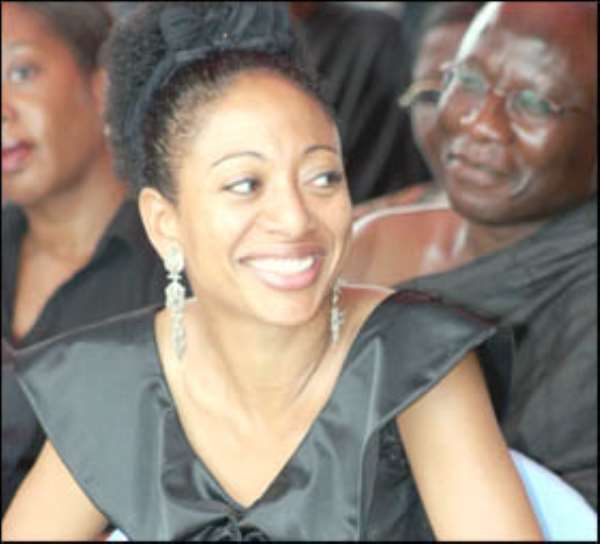 SAMIA YAABA Nkrumah SAMIA YAABA Nkrumah, daughter of Ghana's first president, Dr. Kwame Nkrumah, insists she is not a novice in politics.
Samia who won the Jomoro constituency parliamentary seat hands down on Sunday emphatically stated that "politics is in my DNA".
She emphatically stated that she is experienced and well prepared both mentally and physically to live up to expectation in her political career whilst speaking in a radio interview in Kumasi yesterday.
Samia, it would be recalled won the Jomoro constituency seat after easily out-punching the incumbent Member of Parliament (MP), Hon. Lee Ocran of the National Democratic Congress (NDC).
She polled 19,916 of the total votes cast to confine Lee Ocran who managed 13,345 to the second position slot.
The daughter of the first president attributed her historic victory in the elections to hard work and well organized campaign strategy that she adopted.
She noted, "I won by dint of hard work, dedication and effective campaign strategy and nothing else", adding that she got to the grounds and spoke one-on-one with virtually every member of the constituency.
Still on her campaign, excited looking Samia indicated that she had campaigned vigorously over the last few months saying, "I toured the nook and cranny of the constituency and this I think did the trick for me".
The newly elected Jomoro Constituency MP added that her sound and realistic ambition for the area also touched the hearts of the electorate, hence they voting for her in large numbers.
Samia promised to be a compassionate, innovative and hard working MP, who would work tirelessly to transform her area within her first four year tenure.From Fred J.A. Ibrahim Jnr., Kumasi