Agou and New Jumbo boycott elections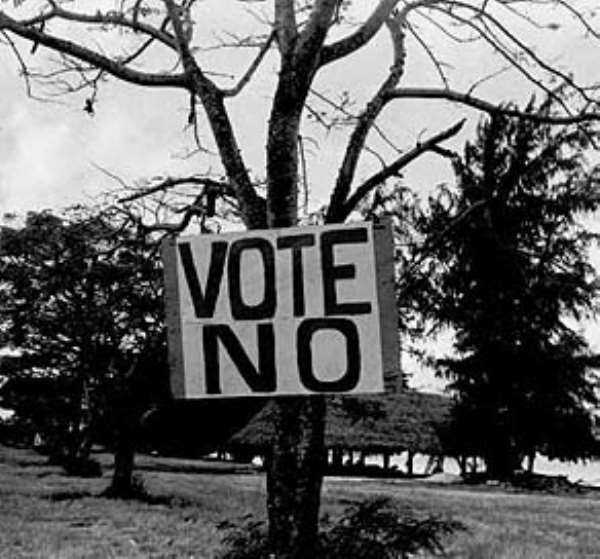 The Chiefs and people of New Agou and Jumbo in the Nkwanta-South Constituency have boycotted Sunday's elections in protest against being placed under Nkwanta-South Constituency instead of Nkwanta-North.
Nana Laso III, of Jumbo told the Ghana News Agency that he and Nana Tamanja II, of New Agou caused gong-gongs to be beaten to get their people to boycott the elections.
He said the action a repeat of the boycott of the 2004 elections, was because their petitions regarding grievances before that year's elections have failed to elicit any responses from the relevant authorities up to now.
Nana Laso said whereas their two communities, which are closer to Kpassa in Nkwanta-North were placed under Nkwanta-South, Kamanchu and Ebitiyie communities which are far from Kpassa and nearer Nkwanta-South were placed in the Nkwanta-North constituency.
Nana Laso II said the grievance of the two communities was over the Parliamentary elections not the Presidential but because the two were being carried out simultaneously, they have no alternative but to boycott the two.
Nana Laso said his predecessor Nana Laso Tananyin II, who was arrested in a protest before the 2004 elections over the same issue died shortly after his release and his memory was still fresh in their minds.
He said the two communities have since 1996 not had a representation in the Nkwanta, now Nkwanta-South District Assembly. Following a threat yesterday that they would resist any moves to impose the elections on them, ballot boxes meant for the two communities have not been moved to the Polling stations, there but kept in the Nkwanta Offices of the Electoral Commission.