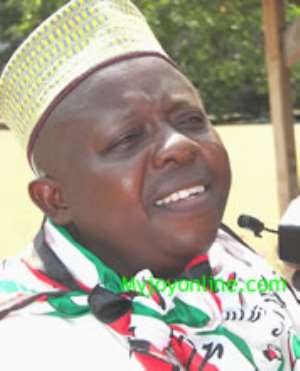 A former Minister of Youth and Sports under the Kufuor Administration, Mallam Ali Yusuf Isa has declared his unflinching support for the National Democratic Congress flag-bearer Prof. John Evans Atta Mills, after defecting from the People's National Convention.
Mallam Isa, otherwise known as Insha Allah, was drafted into the Kufuor Administration as part of the latter's all inclusive government from the People's National Convention. He was later convicted and imprisoned for stealing and wilfully causing financial loss to the state.
He was granted amnesty by the president after serving part of his term and has since been on the quiet.
Announcing his sudden defection at the NDC Headquarters shortly after addressing a press conference in Accra to rebuff what he said were allegations and lies perpetrated by President Kufuor and New Patriotic Party presidential candidate, Nana Akufo-Addo, Mallam Isa said the NDC was the only human-centred party worthy of voting for.
He said Professor John Evans Mills, NDC presidential candidate, was a better candidate to be trusted to lead Ghana out of her current economic hardships and he has decided to throw his weight behind him and the party.
In brief remarks to party officials led by Johnson Asiedu Nketiah, NDC General Secretary, Mallam Isa said he had been with the NPP before and was convinced they are at their wits end on the problems confronting the country.
Johnson Asiedu Nketiah welcomed Mallam Isa and said even though the NDC was not a party of riches and bounty, it was sensitive to societal needs and places much premium in meeting the needs of the people. In that vein, Mallam Isa would equally share in the national cake just as any Ghanaian.
Describing Mallam Isa's defection as a qualitative one, Asiedu Nketiah said usually defectors joined the ruling government as a result of persecution or monetary baits, "but here is someone who has been with them but has seen the worth of the NDC."
He asked Mallam Isa to discharge his obligations as a party member responsibly and avail himself of all opportunities in the party, adding, the NDC is the party of choice.
Asiedu Nketiah asked party members to support the new convert as he puts his shoulders to the wheel for a change in government come the December Elections.
Mallam Isa had during his press conference accused the NPP of planning his incarceration, and said a recent claim by President Kufuor during an interview with the BBC convinced him the NPP was behind his incarceration.
President Kufuor in an interview with the BBC on November 14 cited the imprisonment of Mallam Isa as a classic demonstration of his political will to fight corruption.
Mallam Isa said during the recent IEA Presidential Debate in Tamale, Nana Akufo-Addo also claimed his (Mallam Isa's) incarceration was ample proof that he, Nana Addo, discharged his office creditably as Minister of Justice and Attorney General in fighting corruption.
"Ladies and Gentlemen, I know this meeting will not stop President Kufuor and Nana Akufo-Addo from continuing on this path of lies and character defamation that they hatched, executed and continue to propagate against me.
"At least, I hope to prove to the good people of Ghana and the world at large that the NPP administration has not fought corruption. Indeed corruption and or incompetence smells right from President Kufuor, through Nana Akufo-Addo to the lowest member of the NPP administration. One wonders why none of them has been pencilled for prosecution.
Story by Isaac Yeboah and Nathan Gadugah