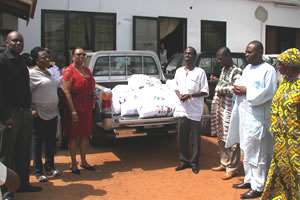 The National Democratic Congress, NDC, today received cash and material support from its UK-Ireland branch which donated 1,000 party T-shirts and 1,000 pound sterling to aid the party's campaign for Election 2008.
The donation is the branch's widow's mite and is in response to the party's call for support, and according to Mrs Betty Mould Iddrisu, a leading member of the party who presented the items on behalf of the branch, it is to support particularly NDC women parliamentary candidates .
At a brief presentation ceremony at the party Headquarters in Accra, Mrs Mould Iddrisu said the presentation was in fulfillment of an earlier pledge by the branch to assist in the search for change for a better leadership in Ghana. She said more of such support would come in from anxious Ghanaians in the diaspora eager to see the NDC win the December polls.
Mr. Johnson Asiedu Nketiah, NDC General Secretary, who received the donations, said they had arrived at an opportune time when there was a clamour for NDC T-shirts but the party was not so endowed to meet the increasing demand.
He expressed hope however, that the donations had come to support a worthy cause of changing the leadership of the country and assured that come December 7, Ghanaians will vote for change.
Mr. Eben Anuwa-Amarh, the NDC UK-Ireland branch Chairman told Myjoyonline over the phone that the support for NDC women parliamentary candidates is in recognition of their gallant support and sacrifices in the struggle for change in Ghana's leadership and to make Ghana a better place to live in.
He said for anyone who believed that there is need for change in Ghana, this is the time to support the cause. Anuwa-Amarh said the party's supporters would back up their material support with their votes and as such, they would be returning home to cast their votes to enable the party achieve its objective. "We are all expectant and we know we shall have change," he said.