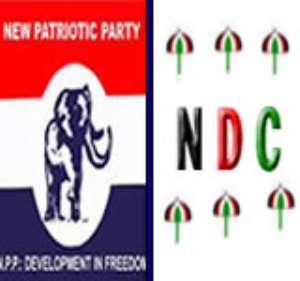 The studios of Joy FM on Wednesday were turned into the Madison Square Gardens when two doctors, turned political pugilists, decided to slug it out in one of the most competitive exhibition bouts, ahead of the main bout on December 7.
At the 'blue corner' was the defending champion Dr. Arthur Kennedy from the stables of the New Patriotic Party who had the onerous task of retaining the title after eight years in the saddle.
At the 'red corner' was Dr. Tony Aidoo from the stables of the PNDC/NDC, who was knocked out of power after 19 years and now seeks a come back.
The stage was therefore set for an uncompromising battle, with points to be awarded only on the economic achievements of the two stables.
It was a battle of figures, wits, jibes and jabs which sometimes kept referee Kojo Oppong Nkrumah dazed, but who always managed to come back and keep the two pugilists at bay.
In round one, Dr. Aidoo shielded the P/NDC from attack describing it as one of the best performers in Ghana's history.
"In 1984 the P/NDC reversed the economy from as low as -7% to +6%. There was 13% growth in just three years, the highest ever attained in 50years.
"The PNDC sustained the economy at an average annual growth rate of 5%. The NDC took over in 1992 and maintained that average growth until 1999," he charged.
He however took his foot of the peddle describing the economy in 1999 as reaching a dead end, allowing Dr. Kennedy to come in with a strong jab.
"Economic dynamics always reach a point at which diminishing returns sets in and required a change in policies," Dr. Aidoo pointed out.
Riding on that admission of economic challenges in 1999, Dr. Kennedy came in strongly with a jibe: "These people were at their wits end, they had done all they could do and nothing was working," he mocked, then opened up with series of 'swings' which landed the 'body' of Dr. Aidoo.
"If you think of Ghana's history from independence era right till 2000 we managed to take our GDP to about 3.9 billion, the PNDC took it from 2 billion to 4 billion by the time the NDC was leaving office. As we speak now our nominal GDP is 16 billion, which means the economy doubled under the 19 years of P/NDC and quadrupled in the eight years of the NPP."
He was in firm control with some little jabs, "not only that, inflation has come down, interest rate has come down, that is why teachers are being chased by banks to collect loans," until the bell went for the end of round one.
Right from recess, Dr. Aidoo then dominated the bout with a combination of jabs, and wild punches which did not only daze his opponent, but referee Oppong Nkrumah as well.
He unsettled Dr. Kennedy with an 'upper cut' by challenging his figures; "At no time has Ghana's GDP ever reached 16 billion either in nominal or real terms."
"Opening a small cut just above Dr. Kennedy's eye," Dr. Aidoo landed a few more swings.
"Dr. Kennedy your starting point for the NDC of under $4 billion is a deliberate misrepresentation. Currently the value of the GDP in nominal terms is $12 billion. So you have not grown the economy to $16 billion as you claimed."
Referee Oppong Nkrumah who for a moment was dazed himself by the figures being brandished about by Dr. Aidoo, interrupted proceedings for purposes of clarification.
"If I may ask, where is the source of the document and figures you are holding," he quizzed.
"From the world bank Dr. Aidoo answered."
With that reprieve, Dr. Kennedy recovered from the incursions and launched a counter, using the ammunitions of Dr. Aidoo.
"I have different figures but I am very happy to argue on his own figures. Now he (Dr. Aidoo) says in 2000, we had a GDP of $4.9 billion, and in 2007 he says the economy is $12 billion which means the economy, in nominal terms has tripled in the last seven years.
"This means we have managed the economy better than the P/NDC did in 19 years according to his own figures which I have problems with," he insisted.
That punch landed on the face of Dr. Aidoo, kept him in check at least for a short period, until he went absolutely haywire with some wild punches in return, some of which landed.
He took a swipe at Dr. Kennedy's stable for mismanaging the many resources that were accrued within their eight year rule.
"Within the eight years of NPP, a total of 208,689,333, old Ghana cedis was raised as against a meagre of 20, 371,479 of the NDC. What did they do with the money? he quizzed."
"Presidential travels, management fees which they did not perform, consultancy fees which they did not perform, kick backs," he answered, sarcastically.
Kennedy responded, "the HIPC benefits ensured that we kept lots of revenue in the country, and we were better at collecting revenues and with the tripling of the economy as he himself have said, revenue was generated."
He jibbed the institution of the school feeding programme, capitation grant, NHIS, infrastructural developments in road and educational sectors as some of the investments and achievements of the NPP.
With no clear winner on Wednesday's bout, the two pugilists have promised another showdown tomorrow, Thursday 20th November 2008 to start at approximately 7:45 am- 9:30 am.
The venue still remains the studio of Joy FM with Kojo Oppong Nkrumah as the indefatigable referee on the day
Commentary by Nathan Gadugah