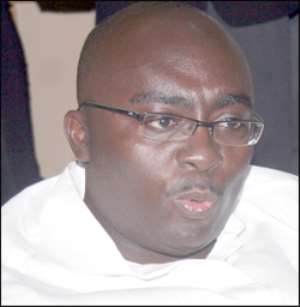 The date for the vice-presidential debate is now Friday 28th November 2008, a shift from the previous date of Thursday, 20th November 2008.
The change was contained in a communiqué issued by the Communications/Campaign Directors of the New Patriotic Party (NPP), Convention People's Party (CPP), National Democratic Congress (NDC) and the People's National Convention (PNC) sequel to a meeting held with the Institute of Economic Affairs' (IEA) Presidential Debates Committee last Monday.
A number of other deals were arrived at including the order of seating which the parties agreed should be the same as obtained during the presidential debates segment.
Three segments were agreed upon and these are the economy, governance and human/social sector with Prof Ivan Addae-Mensah and Mr. Israel Laryea retained as moderators. The two persons moderated the Tamale segment.
The Central Regional capital, Cape Coast is the venue of the maiden vice presidential debate session.
Signing for their various organizations for the debate which starts at 6pm on the aforementioned date are Dr. Kobina Arthur Kennedy for the NPP, Mr. Alex Segbefia, NDC, Mrs. Jean Mensa, Member- IEA/PDC, Mr. David Ampofo, CPP, Mr. Henry Asante, PNC and Peter Cardinal Appiah Turkson, Chairman of the PDC.
The survival of the debates was threatened earlier when the NDC cast doubt over the integrity of the membership of the committee overseeing it.
The party had accused the Catholic clergyman of leaking questions to the NPP presidential candidate ahead of the debate, an accusation the body rubbished in a robust rejoinder afterwards.
That the status quo has remained underscores the fact that the fears raised by the NDC were after all red herrings.
Ghanaians would have the opportunity of having running mates of the political parties engage each other in a war of wits about the economy and social affairs.
With a varied experience about the economy, Dr. Mahamudu Bawumia would be watched by many Ghanaians as he churns out what he would be bringing onboard the NPP train when the party is retained in the December polls.
Having already spoken copiously about how the NPP government has salvaged the economy, the former Deputy Governor of the Bank of Ghana is expected to play well in what is regarded to be his turf.
In his secondary school days at the Tamale Secondary School Dr. Bawumia was admired for his witty debates.
His NDC counterpart, Hon. John Dramani Mahama is a known personality even before he became a feature on the campaign trail.
Having been in Parliament for so long and manned the Information Ministry during the NDC tenure, he should be able to wriggle his way out of difficult governance questions.
How he handles questions pertaining the abuse of human rights which the NDC inherited from the PNDC is another kettle of fish.
By A.R. Gomda