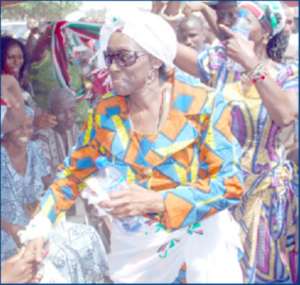 THE FORMER first lady, Nana Konadu Agyemang Rawlings has asked the people of Ashaiman to kick the New Patriotic Party (NPP) out of power by voting massively for the National Democratic Congress (NDC) in this year's general elections.
Addressing a mini rally at the Mandela Park, Mrs. Rawlings accused the ruling party of making empty promises to the Ghanaian electorate, thereby creating unnecessary hardship and poverty in the country.
She remarked that Ghanaians have regretted voting the NPP into power and were just waiting for December 7 to kick them out.
Mrs. Rawlings noted that the NPP government today is claiming it is the finest government the country has ever seen, forgetting that some of the very things which they claimed to have done well and were thus asking Ghanaians to renew their mandate were actually started by the opposition NDC.
She indicated that average Ghanaians were now finding it difficult to afford the basic things they were able to afford under the NDC government, adding that the money and good things are going to a few to the detriment of the majority of the people in the country.
The former first lady was of the view that the NPP had nothing new for Ghanaians hence their constant attack on the former first family.
She stated that those who truly believe in Ghana are members of the NDC and not the NPP as was being publicized.
She commented that the NPP presidential candidate, Nana Addo Dankwa Akufo-Addo was part of the Kufuor government and if he could not help change the fortunes of the country, what shows he can do that if voted as the next president.
She said a lot of Ghanaians were now afraid to go to bed at night because of the poor nature of security in the country, adding that people all over the country were being attacked even in broad day light.
Nana Konadu therefore urged the people to come out in their numbers and vote for the NDC, referring to December 7 as the liberation day for them.
Taking her turn to address the gathering, Sherry Aryitey, a leading member of the NDC asked the people not to believe the NPP again because throughout the last eight years they have been in power they have not been able to fulfil their promises to the good people of this country.
Hon. Alfred Agbesi, the Member of Parliament (MP) for Ashaiman who is also the party's parliamentary candidate, urged the people to embark on a trouble-free campaign. From Razak Mardorgyz Abubakar, Ashaiman