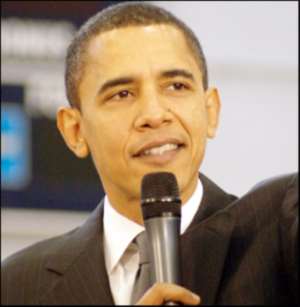 On behalf of the Government and people of Ghana, President John Agyekum Kufuor has sent a congratulatory message to Barack Hussein Obama, President-Elect of the United States of America, on his recent victory.
"I convey to you my sincerest congratulations on your recent victory in the United States presidential elections," wrote President Kufuor.
In a letter, President Kufuor said he shared the optimism of world leaders in general, and African leaders in particular that under the leadership of President Obama, the United States government will continue to inspire and work alongside leaders in the international community in addressing all the major issues of concern to humanity especially those relating to peace and security.
He expressed his preparedness to work closely with the new US President and his administration in nurturing the historic bonds of friendship and cooperation between the two countries into an enduring and mutually rewarding partnership based on their shared values and common vision.
"Please accept, Mr. President-elect, the renewed assurance of my highest consideration."
Mr. Obama was elected the 44th president of the United States on Tuesday November 4, 2008, sweeping away racial barrier in American politics.
The 47-year-old first-term senator from Illinois defeated Senator John McCain of Arizona, 72, a former prisoner of war who was making his second bid for the presidency.
Not only did Mr. Obama capture the presidency, he also led his party to sharp gains in Congress. This puts Democrats in control of the Senate and the White House for the first time since 1995 when Bill Clinton was in office.
By winning the election as the first African-American president of the United States, Obama has shattered more than 200 years of history.
By Emelia Ennin Abbey