Mills To Fight Corruption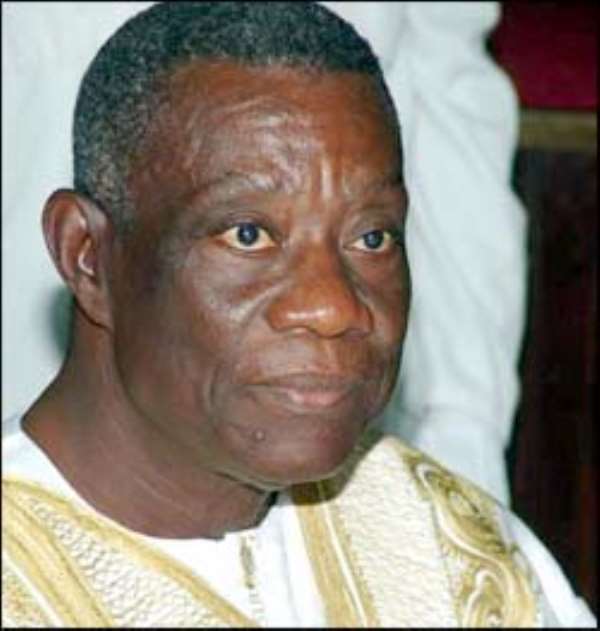 Professor John Evans Atta Mills, Presidential Candidate of the National Democratic Congress (NDC) said he will put in the effort to stamp out the widespread corruption in the country after winning the December polls.
He said President John Agyekum Kufuor's inability to tackle corruption was eroding investor confidence in the economy, killing many local industries.
Professor Mills was addressing rallies in the North and South Tongu districts as part of his tour of the Volta Region.
He noted that many people in the corridors of power were openly flaunting wealth while many Ghanaians wallowed in poverty, endangering the peace of the country.
He asserted that the government was practicing a policy of social exclusion which favoured those close to the ruling party to the neglect of the majority.
"I would end the social exclusion policy in which many Ghanaians who either by tribe or social affiliations were either forced out of their jobs or penalized," he said.
Prof. Mills said the NDC owed a lot of gratitude to the Volta Region as a result of its support over the years, and promised that the next NDC government would complete the "unfinished job" in the region.
He said the Aveyime rice project was envisaged by the previous NDC government to provide jobs to the people, and expressed worry that for over seven years, the current government had put the project on hold.
He stated that the Agricultural Development Bank (ADB) would be strengthened to play its traditional role of supporting the agricultural sector, adding that, an incentive policy would be put in place for other banks to also give credits to farmers.
Irrigation and tractor facilities, including expanding feeder roads in the country would be undertaken to enhance the agricultural sector, he added.
He introduced Charles Hodogbe, Kwabla Woyome, and Joe Gidisu as the Parliamentary Candidates for the North, South and Central Tongu constituencies respectively.
GNA