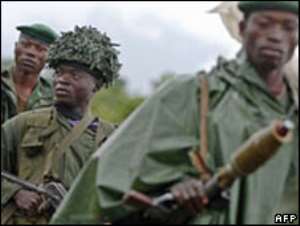 French Foreign Minister Bernard Kouchner has called for the mandate of UN forces in the Democratic Republic of Congo to be strengthened.
"We need different soldiers, and different rules of engagement," he said after briefing his EU counterparts about his weekend visit there.
Rebels routed the army in the eastern North Kivu province last week, and are now threatening the regional capital.
Tens of thousands of people have been forced from their homes in the area.
The rebel leader, renegade General Laurent Nkunda, has declared a ceasefire and said he will guarantee "humanitarian corridors" through rebel lines.
But his spokesman Bertrand Bisimwa told AFP news agency that the Congolese government was "waging war" by refusing to hold direct negotiations.
Gen Nkunda's forces are positioned outside Goma, the regional capital.
The United Nations has a 17,000-strong force in the country, called Monuc.
It is its biggest mission in the world, but correspondents say it is struggling to contain the conflict.
"What should be done when people are being killed?," Mr Kouchner said. "We need more of an offensive capability."
He said the peacekeepers' rules of engagement were "insufficient" and "very restrictive".
Desperate
Mr Kouchner was speaking in the southern French city of Marseille, following talks with 26 other European Union foreign ministers on Monday.
He and his British counterpart David Miliband travelled to DR Congo at the weekend.
They met both Rwandan President Paul Kagame in Kigali and Congolese President Joseph Kabila in Kinshasa.
On Monday, Mr Kouchner did not rule out sending more EU troops to DR Congo, but added: "That has still to be decided."
UN peacekeeping chief Alain Le Roy, visiting Goma, said troops there would "do the maximum to protect the civilians".
In New York, UN Secretary-General Ban Ki-moon named former Nigerian President Olusegun Obasanjo as his special envoy to help resolve the crisis.
Mr Ban added that he was willing to meet Mr Kabila and Mr Kagame soon.
Meanwhile an aid convoy escorted by UN troops arrived in Rutshuru, a rebel-held town 75km (45 miles) north of Goma.
It carried medical supplies and water purification tablets. The UN said it hoped food convoys could follow.
Aid workers found that refugee camps that had held tens of thousands are now virtually empty.
It is believed many people left fearing further violence.
While as many as 50,000 displaced people reached Goma, many others have tried to return to their homes on foot through rebel-held territory.
Many have been reduced to foraging for wild roots and berries in the bush, without safe shelter, water and care.
The recent rebel offensive was exacerbated by a wave of killing, looting and raping by retreating Congolese soldiers.
Brown's pledge
The Congolese government accuses Rwanda of backing the rebels, but both countries' presidents have agreed to attend a regional summit on the situation.
UK Prime Minister Gordon Brown has said the international community must "not allow Congo to become another Rwanda".
In 1994, 800,000 people died in Rwanda's genocide, which is seen as the origin of the current conflict across the border.
Gen Nkunda says he is fighting to protect his Tutsi community from attack by Rwandan Hutu rebels, some of whom are accused of taking part in the genocide.
There have been accusations of collusion between DR Congo's army and Hutu guerrillas.
The Congolese government, for its part, has accused Rwanda of backing Gen Nkunda.
Rwanda denies this, but it has twice invaded its much larger neighbour in recent years.