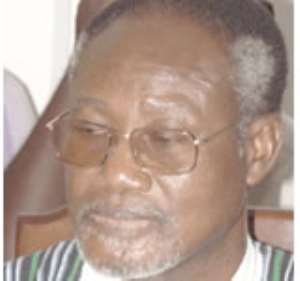 The founder and life patron of the Democratic Freedom Party (DFP), Dr. Yao Obed Asamoah, has denied playing any role leading to the resignation of some party stalwarts in stages.
Some leading members of the party recently defected to other political parties; blaming Mr. Obed Asamoah of monopolizing the party. He has however denied dictating to the party and its presidential candidate; he said he is only a victim of circumstances being used as "a convenient excuse".
"What they saying is not correct; it is not borne out by the fact…I am not dictating to anybody, you can talk to the flag-bearer, talk to other members of the executive and you will get the picture of what is going on," he told Joy News' Sammy Darko.
The former Interim Chairman of the party, Alhaji Abdul Rahman Isakah, resigned from the DFP early October. The latest to abandon the DFP is its Second Vice Chairman, Frances Awurabena Essiam, who is now flirting with the ruling party – the New Patriotic Party.
Others like Price-Derek Adjei, National Youth Organizer of the DFP, have publicly expressed indignation about the selection of the party's vice presidential candidate.
Dr. Obed Asamoah said he suspected that his members are falling foul of him due to the selection of Ms Patience Amesimeku as the running mate.
It is alleged that the woman was his imposition on the presidential candidate.
"I was not even at the meeting where the decision was taken, even the flag-bearer has issued a statement saying that the choice of the running mate was his choice and was not influenced by anybody."
Story by Isaac Essel