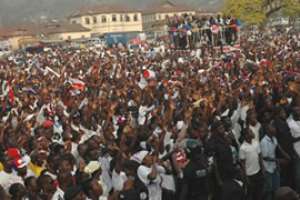 Party supporters at a recent rally
Contrary to perception that the Greater Accra Region had fallen to the opposition NDC, the NPP presidential candidate, Nana Akufo-Addo, enjoyed unprecedented support during his campaign tour of the Ododiodoo and Korley-Klotey constituencies.
Commercial activity on the Oxford street virtually came to a standstill: the entire Osu and its environs from Danquah Circle to Osu Kinkawe, Osu Klottey, the Castle area and the Ohene Gyan stadium were filled with thousands of enthusiastic supporters.
Workers in those areas came out from their offices to cheer Nana and members of his entourage.
At the Odododiodo constituency, including the central business district, was awash with NPP colours and paraphernalia. The huge crowd danced the popular 'kangaroo dance' to NPP compositions to prove how strong the party is in the area.
When Nana got to the Tema station, Makola, Kantamanto, Agbogloshie market and the timber market, traders abandoned their wares and joined the NPP to rock the area.
Sudents of Kinbu Senior High School also abandoned their study momentarily to cheer Nana Addo who is an old boy of the school.
The flag-bearer ended his tour at the Kwame Nkrumah Circle.
At the various places that he toured, Nana Akufo-Addo told the crowd that the NPP is the best party to continue with the good work started by the Kufuor administration.
He said comparatively, the NPP has performed better than its predecessor and expressed optimism that the electorate would consider that and vote massively for the NPP to continue with its humane policies and transform Ghana into a first world country.
He called on Ghanaians to reject the empty promises and negative propaganda of the NDC.