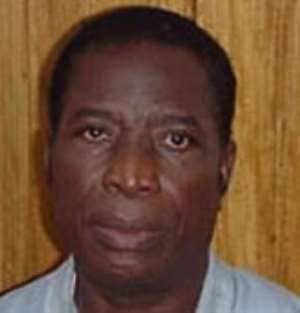 "My phone number is 020-9378742 and when you phone, it would come direct to Dan Lartey and whatever arrangement that is there, I would make with the person".
These were the words of a desperate and broke Dan Lartey, founder, leader, and presidential candidate of the Great Consolidated Popular Party (GCPP) yesterday when he launched a public appeal for funds on radio.
However, the GCPP leader was said to have raised the money but still could not sail through the registration process as his documents were declared incomplete by the Electoral Commission (EC).
At the close of nominations yesterday, the Commission declared eight people as eligible to contest the December 7, 2008 elections.
The candidates are Nana Addo Dankwa Akufo-Addo, New Patriotic Party (NPP); Prof John Evans Atta Mills, National Democratic Congress (NDC); Dr Paa Kwesi Nduom, Convention People's Party (CPP); and Dr Edward Nasigre Mahama of the People's National Convention (PNC), who is making his fourth attempt at the presidency.
The rest are Thomas Nuako Ward-Brew, People's Democratic Party (DPP); Emmanuel Ansah-Antwi, Democratic Freedom Party (DFP); Kwabena Adjei, Reformed Patriotic Democrats (RPD), and the only Independent presidential candidate, Kwasi Amoafo-Yeboah.     
Mr Lartey was among the loud-mouth politicians who could not register for the December 7, 2008 elections with the EC at the close of nominations.
He is joined by the likes of Charles Kofi Wayo of the United Renaissance Party (URP), Ramon Osei Akoto of United Love Party and Prophet Nkansah of the New Vision Party (NVP).
The 82-year-old leader cried for financial aid to rescue his flagging presidential ambition, after loudly complaining that he was unable to cough up the GH¢5,000 filing fee set by the Electoral Commission.
Shamelessly soliciting a bailout, Lartey said whoever would give him a loan would surely be paid back by November ending and he appeared to have received a succor as the GCPP leader popped up at the EC with his banker's draft but without the necessary documents including a passport photograph.
He was therefore declared unqualified and subsequently dashed into a waiting taxi off to his Kaneshie residence.
The GCPP leader had earlier complained about lack of resources as he lamented that he could only mobilize about GH¢2000 and was left with GH¢3000.
"I need ¢30 million to be able to complete everything which is supposed to be done because the bank charges are there and what not, and you have to be able to do it," Mr. Lartey said in an interview on the Citi Fm Breakfast Show yesterday.
He said he would accept offers from even political rivals in the race for the presidency.
"Yes I would accept if any party decides to help; I will accept. Why not? Because we want a fair competition. Anybody who has that money to give me today to be able to file, I will pay back that money to that person on November 30th by all means from my own resources."
Sounding rather angry with the EC for setting the filing fees too high, Mr Lartey said: "If I don't get the money and no other person would support, then it means, you know, I won't compete."
He confessed to having 'squeezed water out of stone' to put together GH¢2,500, half the amount set by the EC as filing fee. "I've done everything. Everything is complete to file the nomination; it is the ¢50 million which is the problem and I have half of the ¢50 million straight in hand right now."
The audibly desperate Dan Lartey who says running for President this year means a lot to him, told radio listeners: "I am fighting to get the balance and if I get the balance I would file the nominations at once.
"Two days, I have been able to raise GH¢2,500; if I have another two days I will be able to raise it. But as at now I am in a limbo," Mr Dan Lartey said in desperation.
He claimed that all those who had filed their nominations have been in government before and were able to accrue enough money from various positions they held whilst in government.
"I have not been in government! And everything I am doing now, I am doing with my own resources."
The various political parties recently launched what turned out to be a failed crusade to force the EC to slash this year's filing fees. But the EC stuck to its guns and announced it cannot do anything about the fees.
Mr. Dan Lartey, a veteran politician, bounced onto the political scene with his popular slogan "domestication" when he contested for the presidency for the first time in 2000.
By Nathaniel Y. Yankson