Edward Boateng •The CNN Man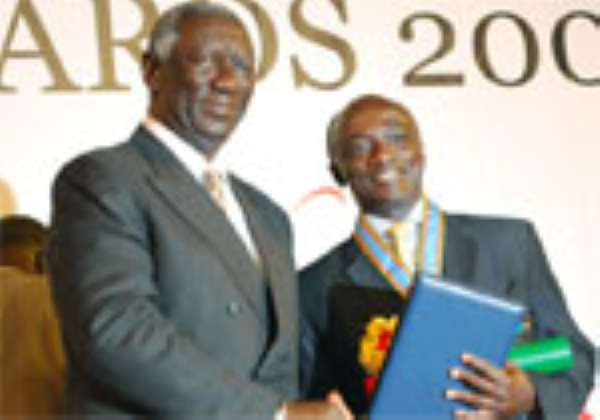 FOURTEEN YEARS ago, a young and enterprising Ghanaian working with the Turner Broadcasting System (TBS), the parent company of the Cable Network News (CNN), nurtured a brilliant idea aimed at improving the lot of African journalists who would eventually tell the African story the way it is without the usual foreign skew.
He also believed that the information flow in Africa was highly insufficient and this usually resulted in unnecessary conflicts on the continent.
Mr. Edward Boateng, Executive Chairman of Global Media Alliance, said "if we could have a media where quality information will be made available in a timely manner and journalists become the agents of change, our society will experience social and economic transformation faster."
These concerns were the motivating factors that pushed Mr Boateng to initiate the CNN/Multi Choice African Journalist Awards, now in its 13th year.
The awards ceremony takes place in Ghana this Saturday, July 19, 2008 at the State Banquet Hall, and the Special Guest of Honour will be President J. A. Kufuor.
According to him, the beginning was not easy. "At the time, corporate social responsibility was not in vogue; I had to convince Tuner Broadcasting System, my employers then, to support the project.
It was clear at the time that Africa was not a priority market so I had to be persuasive for them to assist in doing it," he said.
To set the ball rolling, Mr. Boateng succeeded in getting other top African personalities like the late Mohammed Amin of Kenya (he wrote the rules and regulations for the first competition which has formed the basis of the competition to date), who became the first chairman of the judging panel; Mr. Esom Alintah from Nigeria, the former Secretary General of the African Business Roundtable, who gave us the initial seed; and Mr. Everest Ekong also of Nigeria, who helped in the organisation of the first two events in Ghana and
South Africa.
He also gave credit to his former CNN colleague, Gary Strieker, who was also one of the first judges of the competition and the late Otumfuo Opoku Ware II, who gave him and his colleagues the opportunity to use the celebration of his Silver Jubilee to launch the maiden event in Kumasi.
Mr. Boateng further commended CNN, which he said gave the idea its unflinching support and has nurtured it to date.
He did not hide the significant impact of the CNN African Journalist Awards and the freshness it has brought into the lives of its previous award winners and remarked, "it is improving every year and today it is rated as one of the most prestigious journalism awards in the world. It is a humbling experience that I am proud of."
He emphasized: "basically, the award promotes excellence and gives recognition to the African journalist. One of the key attributes of the award is that it gives people confidence on the world stage."
From a humble beginning as a Sales & Marketing Executive, Mr. Boateng's career progressed through hard work, turning him into a successful entrepreneur. He nurtured a vision and established new milestones with his leadership in African Media.
Despite a journey full of trials and tribulations both on personal and professional fronts, he continued in his efforts and was ever determined to achieve his dream.
"Life is all about challenges; we face challenges everyday but it is our ability to forge ahead that matters. It is how you deal with those challenges that matters," asserts Mr Boateng.
He has always believed in his mission and championed the cause of furthering development initiative in Africa through the power of the media. He has emerged role model to several Africans and today he is seen as one of the 'Agents of Change' on the continent.
The brain behind the CNN African Journalists Awards was repentant, saying, "most African countries including Ghana only had one TV and radio station at the time I was growing up and even when I started my career with media about 17 years ago. This limited its ability to
effect change as a development tool." He contended: "Times have, however, changed and it is interesting to note in Africa that the media is now increasingly assuming a bigger role and making a greater contribution to our growth".
A product of Prempeh College in Kumasi (popularly referred to as the King's college) and the Kwame Nkrumah University of Science and Technology, Mr Boateng holds a Master's degree in Business Administration from Clark-Atlanta University in Atlanta, Georgia and an Executive Diploma in leadership from Yale University, all in the USA.
Prior to his media work, he worked at the Coca-Cola Company in Brand Management, in the Office of the Governor of Georgia as a Governor's Fellow, ORAU (US Defense Contractors) in Tennessee, USA and in Orebro Sweden for Statiska Centralbyran.
His biggest realization on joining TBS was that Africa was not aptly represented and didn't have a 'voice' in the media, which motivated him to start his own media organisation with its risks and challenges.
For as he states, he would have risen to the very top in the media world in the United States or Europe, he has no doubt about it, had he decided to stay in the corporate world.
But somebody had to start it. He pays glowing tribute to African media entrepreneurs who took the risk and blazed the trail before him, mentioning people like Reginald Mengi of Tanzania, Kwasi Twum of Ghana and Raymond Dokpsi of Nigeria.
The potential risks were heavy and clear but the rewards very uncertain. He also gives credit to his wife, who understood and gave him the space to pursue a dream.
"Leaving a guaranteed pay cheque was not easy and without her support, I could not have done it," he said.
In 1998, he incorporated Global Media Alliance (GMA) in Johannesburg, South Africa, with a view to offering services like corporate communications, television production and media relations and event management.
Today, GMA has grown beyond South Africa and is now headquartered in Accra, Ghana with an office in Kenya and partners in Nigeria, UK, South Africa and Malaysia.
It currently has 82 full-time employees and 30 part-time workers and freelancers. It also owns a first division football team: Sekondi XI Wise.
GMA prides itself on its international outreach and currently has international student interns from India, Finland, China, United Kingdom, Germany and United States.
Engaging students at this early stage is a strategic move on Mr Boateng's part as he believes "…when they become senior executives and political leaders in their countries, they will not be so subjective and biased in their thinking and approach when it comes to African matters."
Mr Boateng is also Chairman of the Millennium Development Authority (MIDA), the body set up to administer and manage the USD 547million channeled to Ghana under the US MCC Compact Programme.
Among others, he initiated the Breakfast Show on GTV; initiated and organized the Freedom Forum, the first Presidential Debate in Ghana and co-produced the Presidential Tour on Ghana with Discovery Channel.
Mr. Boateng is married to Lisa and the couple has four children, Eno, Mimi, Senu and Nana.
Talking about the expectations of this year's awards, Mr. Boateng states that with the Ghanaian spirit of AKWAABA and hospitality, it will be the best. Daniel Nkrumah of Daily Graphic and Israel Laryea of Joy FM, both from Ghana, are nominees for this year's award.
By James S. A. Kwashie