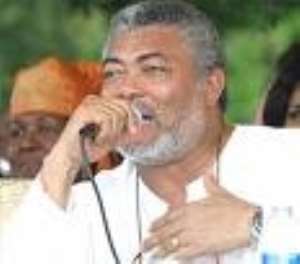 In what may define the latest twist in political discussions and debates in the country, former President Rawlings will on Tuesday address newsmen at his Ridge residence.
Even though officials of the party and close confidants of the former president will not state specific issues to be touched on, snippets of information trickling in from elsewhere indicate the incarceration of former GNPC boss Tsatsu Tsikata will feature highest in "boom" fashion.
"Tsatsu Tsikata's case is one of the injustices being visited on people across the country. And if you'd have to address a state on such very important matters you cannot mention the injustices of ordinary people, big and small," Kofi Adams, an aide to the former president has said.
Mr Rawlings, according to reports, will touch on "matters of concern to the country in general."
Even though the issues would also include the "mechanics" of the party he founded, Mr Rawlings' discussion will be not be confined to the boardroom; they are matters to be discussed in public, hence the press conference.
Tuesday's meeting with the press comes barely a week after the an Accra Fast Track High Court jailed Mr Tsikata on three counts of wilfully causing a financial loss of GH¢ 230,000 to the state and misapplying public property, a ruling that may soon be tested at the higher courts. Mr Tsikata has said the presiding judge, Justice Henrietta Abban influenced the ruling.
Mr Rawlings, last week, called off a news conference he had earlier announced but the latest fallout means the idea of a news conference in the heat of the recent rage in the country's political history is not botched after all.
There have also been speculations that this Republic Day speech by Mr Rawlings will smack the national awards and President Kufuor's "tall" list of awardees.
Already kin pins of the NDC, including former security advisor, Capt Rtd Kojo Tsikata, MP for Manya Krobo, E.T. Mensah and Mr Rawlings himself have rejected the award giving various reasons.
The latest to join the fray has been the party's flag-bearer Prof. John Evans Atta Mills.
Advertisement
A press release issued on Monday from the office of Prof Mills alluded to certain reactions that followed his nomination for the country's highest award – the mix of issues from the president's press secretary Andrew Awuni, the NPP women's organiser, Rita Asobayere and the NPP youth organiser, John Boadu.
Media analysts have said tomorrow's press conference is likely to present another complication for both the NDC and the NPP towards December's polls. A possible overshadowing of other issues, including oil price hikes is not remote.
For the NDC the talk about a "press conference" may only mean a discussion of national issues, not a new synonym for a nasty campaign smear.
Author: Fiifi Koomson