4 months after NPP congress, 8 months to Election Day, an insider's assessment…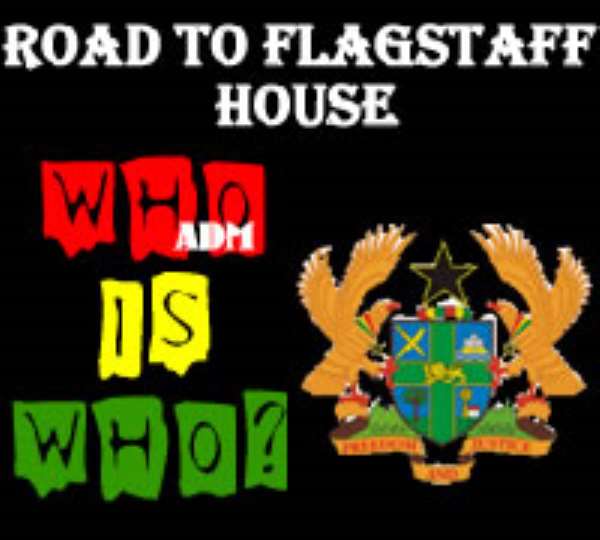 When the NPP paraded close to twenty presidential aspirants last year, it was on the assumption that the party's third term was more or less assured. The party just had to select a presidential candidate – any – and it would be smooth sailing all the way to the Flagstaff House on January 7 2009.
The race was acrimonious, bitter and expensive. On congress day itself, violence was averted only when Mr. Paul Afoko, a supporter of Mr. Alan Kyeremanten, one of the presidential aspirants, was bundled out of the congress hall by security officers.
It was a very low point for the ruling party. Mr. Alan Kyeremanten, who came second pledged his support to Nana Akufo-Addo, the aspirant who garnered the most votes but failed to win the 50%+1votes required by the party's constitution.
It was a show of solidarity which brought much relief to the party. Four months on, what is the disposition of the party? Mr. Alan Kyeremanten's show of solidarity has dissolved into animosity and he has resigned from the party. The NDC seems to have taken certain initiatives that are leaving the NPP flatfooted. What is going right or wrong for the NPP?
In the article below, Carlus von Brazzi (aka Emmanuel Adumuah-Bossman) one of the young Turks who worked tirelessly in the 2008 NPP presidential candidate's "camp" during the presidential primaries argues that "There seems to be no clear plan for both the party and its flag bearer as far as winning election 2008 is concerned."
His is a very bold critique which the writer himself concludes that "At the risk of a sharp reprimand from those who cannot stomach the truth, well…we have duly been forewarned."
"IN THE NAME OF DANQUAH…Don't spit on Busia!" These were the words of an ardent supporter of our great party, the NPP in the immediate aftermath of the resignation of Mr. Alan Kyerematen. Now it is not everyday that you get ordinary party activists lamenting about a whole lot and offering practical solutions to issues that some love to spend long hours meeting over. But are such warnings to be ignored because the party has a flag bearer, structures and droves of people who seem to be working but in actual fact are doing nothing? Today we go to town and with it, several oxen would be gored, damn the consequences.
Planning
It appears the NPP is running on auto-pilot. What is the logic in traversing the so-called orphan constituencies when neither resources nor a feasible plan has been carefully poured into such places to make them winnable? In any case, what messages are we sending to orphan constituencies, messages that are poignant enough to induce the electorate therein to come with the NPP in good company?
Is it the case that because there is no clear plan, some booty-hunters have found a nice way of dragging the flag bearer along for obvious reasons in order to fill this 'vacuum'? It is said that failure to plan is planning to fail. This writer recalls that not so long ago, it was the case for research officers to be deployed to a given area with the appropriate recce conducted to serve as the basis for crafting messages for the targeted area.
For reasons best known to the new chieftains, this basic prerequisite has been jettisoned in favour of rumour-induced visitations. The result of this is to deny the campaigner an opportunity to bring in specific solutions to specific problems in specific constituencies for does it not sound drab and irrelevant for a 'one solution fits all' approach to be unveiled in Yilo Krobo and Asutifi South? This is the reason why the constituents are quick to say "you are heavy on imagery and low on substance". Our message is not inspiring the broad mass of our people.
Slide
The painful reality is that the NPP is slipping down the same slippery precipice the NDC traversed in 2000. Everybody pretends not to notice but I shall stick my neck out and say it without any reservation: this writer was a witness to how the NDC was intransigent when its activists were sending all the signals that all was not well only to be rebuffed by the party big wigs that everything is alright.
For purposes of maximizing their gains and enjoying the rather irritating right to pose around the flag bearer like some police cordon bands, these so-called big wigs who should be directing affairs and churning out new ideas for consolidation and furtherance of that party's goals, rather strive to undermine each other at all levels, with the most crass of them refusing to consult the very people they serve on several committees with while still expecting the usual flip-flopping around policies that would guide the flag bearer.
Sometimes I wonder whether it is worth it, for the attitude of proffering the excuse and refrain of "don't worry, soon everything would be alright" is rather becoming the norm rather than the exception.
This is not the NPP we know; our party has never been one of pretence; our party has never been one of self-seeking bigotry; our party has always been one that invokes the spirit of Danquah to galvanize the most weary and despondent to rally around its tenets so as to make a lasting impression; our party has always been that which induces fence-sitters to argue for its continued dominance within the body-politic because it inspires hope, hope and more hope in the midst of abject deprivation and disillusionment.
Why is our party allowing the history of our major opponents to become our lot? Why are we all keeping quiet for our flag bearer to fight this battle alone? What is it that makes the people around him pretend all is well and yet in their private conversations keep on complaining "maybe some of you must tell him", as if the party and its hard decisions are the preserve of "some of us". Absolute nonsense if you ask me. Can we refocus our energies and redirect our collective abilities, as varied as they are towards placing our campaign and party on the pedestal of winners?
Support
For some strange reason based on an erroneous expectation, certain people within our national campaign think believe that some "Father Christmas" would come and save the NPP from its financial woes. As some of us have held from God knows when, "Father Christmas" whoever he may be is not stopping by our chimney this year! The earlier we stopped expecting resources from those who have not come to grips with the fact that a certain Nana Akufo-Addo is indeed the NPP flag bearer, the better it would be for us to rely on our army of small donors to prosecute this campaign effectively.
If anybody thinks the government and its people would contribute anything, they better have a brain scan: first of all, the government has not got money to be throwing around and in so doing, re-invite the IMF to come pontificating on how we should run our economy. It is a lovely thing to keep them ensconced in Washington for once since we cleverly told them to go to hell last October; Kufuor's government would not make this mistake for politically expedient reasons.
Secondly, the harsh reality is that government would not want to be accused of doing the very thing it accused the NDC of doing during the final stages of its swan dance and thereby bequeath to the successor government, a financial burden that may be worse than the entire debt burden borne by Third World States as a result of the first oil shock of 1973! With all due respect and to all intent and purposes, Nana Akufo-Addo, you really are on your own: no Mpiani or Amarteifio or whoever may choose to have some say on some purses would fill your cup; support would come from the ordinary man/woman - the army of small donors - who would fork out the little left in his pocket because he/she has been inspired by the hope and confidence you exude with your "I believe in Ghana" mantra. Are your handlers and think-tanks providing succinct messages to elicit this response in the form of little but meaningful contributions?
Yes, you are the great story teller: no one can tell our story better than you, but are you being given the fine lines and paragraphs that make up the stories for which your telling skills have been honed over the years? Have you been granted the real support for which reason the story would be acceptable by all to the extent of requesting for a retelling by your good self?
We were supposed to reinforce our base. What programmes have we put in place to make this happen? Why are we not consolidating that which we already hold and rather gallivanting around in some sort of trancelike stupor sending wrong signals that we are plan-less and hence do not deserve the support of the ordinary Ghanaians who looks unto the NPP with hot imploring eyes? We dare not disappoint this ordinary Ghanaian who has borne the brunt of hardship and kept faith with the NPP. Would the NPP in turn keep faith with the ordinary Ghanaian? Or has the NPP become so complacent that it can no longer see beyond its flat African nose? I shudder to think of the curses my generation and those to come would heap on the present crop of NPP leaders if they dare send us into the doldrums: perhaps even the precious Blood of Jesus would pass us by in that frightening event!
Confidence
It is not for nothing that the NDC is gaining in confidence on a daily basis. Whereas they have been where we are now before in 1999-2000, the NPP seems to be groping in the dark and running on auto-pilot, blowing the flag bearer in a "fly-by-wire" yaw through the length and breath of this motherland. The NDC knows about campaign donor fatigue, they understand voter apathy, they recognize that after 8 years, a government/party could become unattractive and unappealing, they appreciate the fact that fun-fair type of campaigns are counterproductive: in the midst of abject poverty, it is suicidal to zoom into a constituency with 'uncountable' fully loaded 4x4s to sell one's message to a seemingly appreciative crowd only to leave after "a successful tour" without knowing the true feelings and impressions of the constituents.
The Ghanaian voter, of which the NPP delegate is a subset has become rather adept at looking 17 people in the face and telling them they would all win without blinking! If that can be done to 17 astute men, I shudder to think how easy it is to transpose that tendency unto 4 flag bearers and 2 independents.
That is akin to primary 2 pupils regurgitating the Lord's Prayer at a basic school assembly or parade on a Friday morning; not even their class teacher can decipher which pupil really meant it when the phrase "as we forgive those who trespass against us" was uttered. Similarly, some handlers of yours are basking in the lunatic binge that simply because people smile and scream "Nana O!" all is well.
We must not succumb to the self-effacing delusional tendency to think that "Oh, Sampa was fantastic" and think it is a done deal: we may be waltzing ourselves into political irrelevance and the earlier we sat up to confront the ever-growing confidence within the NDC, the more guaranteed our prospects for winning this election marginally or handsomely can be!
Solutions
There is no problem that cannot be resolved in a political organization if its sense and unity of purpose are made the organizing and guiding principles. We need to draw up a viable plan immediately to re-energize our despondent and disillusioned activists. We cannot continue to give excuses as to why nobody is in a position to tell where we are headed or why we are headed in that direction.
We must necessarily bring our people on board, irrespective of the irritant value they sometimes add to our activities for this writer recognizes that the nature of our politics requires us to stomach the unpleasant reality of answering phone calls at 02:30 (thanks to free night calls) to inquire about the health and/or location of the flag bearer. We must 'eternally' inspire activists with an inspiration, one that is borne out of a plan so as to avoid sending conflicting signals.
Furthermore, the tendency of our new 'tin-gods' to out-elbow their contemporaries and thereby engender apathy must cease forthwith. Our flag bearer must be ready to read the riot act irrespective of the clout, stature and position of any individual within the campaign team he has assembled.
It is sheer madness for example, for a committee chairman to be more interested in following the flag bearer to a private wedding ceremony when he is needed to flesh out brilliant ideas that would inspire the people of Ghana to keep faith with the NPP. Some people indeed still do not understand what this campaign is about and they must be told in no uncertain terms that this is not the time for reviving childhood fantasies!
As for those deeply immersed in non-existent turf wars, I shall return to them shortly for I fail to understand why they cannot get it into their medulla oblongata that there is only one candidate who we are mandated to promote, support and project while subjugating all our idiosyncrasies and interests that we may rule after January 9, 2009.
In addition, those who believe in the Ghana so eloquently espoused by the flag bearer must be prevailed upon to drop their "wait and see" attitude and start forking out the needed resources for the oiling of our machine. As I stated by insinuating above, "Father Christmas" went on leave on December 22, 2007 and from the look of things, he is staying in Reykjavik for a very long time; there are no reindeer to pull his sleigh to the hot continent of Africa and its weird unforgiving politics. He who has eyes, let him read!
Finally, this election is the NPP's to lose. There is no reason why with such a massive array of brilliant minds, apathy and sheer opportunism should be allowed to deal us a blow that would invariably be self-inflicted. They say that it is only the uninitiated that revels in megalomaniac flights of invincibility when the writing ominously calls for immediate action. At the risk of a sharp reprimand from those who cannot stomach the truth, well…we have duly been forewarned.