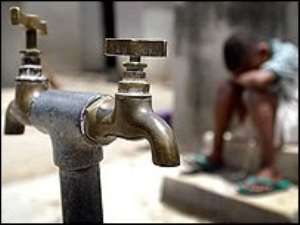 Recently, the country was faced with an acute water crisis. Though the situation has improved in some parts of the country, other parts continue to go through this uncomfortable situation. Ironically, the government chose to use the period to launch its water policy. It further announced during this period, its intention to re-equip the air fleet of the armed forces. This has not gone down well with thirsty Ghanaians, who have vowed to vote for the party which will solve the water crises. This has become a field day for the opposition who are bashing the government, left, right, and center, for not putting their priorities right.
So, I ask a simple question: it's about eight solid months to the next general elections; if the government significantly improves the water supply situation in the country, will these people vote for the NPP, even if the government has built a presidential palace, and acquired presidential jets to boost the image of the country's presidency?
Fellow Ghanaians, was the economy not in shambles in the year 2000, when the NDC under the presidency of President Rawlings, decided to replace a presidential jet which they described as a flying coffin, with a fourteen seater plane for the comfort of Rawlings and his family? This was during the period when Professor Mills was head of the country's economic management team.
Our country encountered acute water shortage in the central region leading to the closure of schools for months. This however did not stop the NDC government from spending heavily during our 40th independence anniversary celebration, and President Clinton's visit which even though was for some few hours was more flambouyant (with the printing of 'Clinton wax print'). During that time did all Ghanaians have water to drink?
Whilst some unscrupulous opposition parties take advantage of the current water crisis, promising Ghanaians milk from their taps, let's take a moment to ask ourselves what we are doing to worsen the water crises situation in the country. Do we secure high pressure pumps to illegally suck water from GWCL's pipelines? And those who know about these illegal connections, do we report them to the appropriate authorities, or we sit back and condone these activities. Do we adjust our water meters so that they read far lower than what has been really consumed? For those of us who live around water bodies or engage in economic activities around water bodies which are our source of drinking water, do we act in ways to pollute these water bodies? What responsible steps are we taking as Ghanaians to ensure that the GWCL does not spend its scarce resources, checking on illegal connection, meter tampering, and conservation of our water bodies? We are our brothers' keeper. We should help ourselves so GWCL can serve us better. This is not the time for 'politricking'. It's time to intensify public education on water conservation.
That said, I congratulate GWCL and Aqua Vittens Rand for providing jumbo water tank services as a short-term measure against the water crisis. I also commend the government for introducing the water policy at this critical moment. Thirsty Ghanaians will expect that the policy is swiftly implemented so that our throats will not continue to be dry.
Remember it's our water, and in order to ensure that we all have enough for all lets do the right thing: use water wisely, and protect our water bodies.