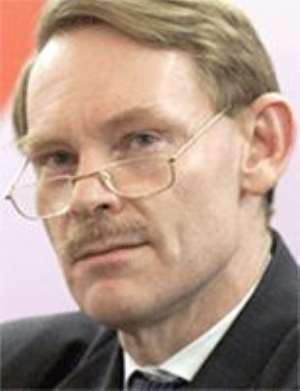 The President of the World Bank Group, Mr Robert B. Zoellick, has outlined a plan for sovereign wealth funds to invest one per cent of their holdings in equity in sub-Saharan Africa as a way of tapping long-term global liquidity to boost investment opportunities and development.  
Mr Zoellick said there was an urgent need to counter immediate threats in response to the current global crisis, while laying the foundations to maximise opportunity and hope for all over the longer term.

He urged developed countries to provide immediate support to help the world's poor facing skyrocketing food prices, and called for a global trade deal to be agreed as soon as possible, and detailed an initiative to help countries manage their wealth earned from high energy and mineral prices in a more inclusive way. 

In an address in Washington at an event hosted by the Centre for Global Development ahead of this week's Spring meetings of the World Bank Group and the International Monetary Fund (IMF), Mr Zoellick said the group would work with sovereign wealth funds to create a "One Per cent Solution" for equity investment in Africa — a continent with opportunities and the potential to become an alternative pole of growth as China, India and other countries are today.

 "Today, sovereign wealth funds hold an estimated $3 trillion in assets. If the World Bank Group can help create the platforms and benchmarks, the investment of even one per cent of their assets would draw $30 billion to African growth, development, and opportunity," he stated. 

Mr Zoellick said sovereign wealth funds offered opportunity, "not something to fear", adding that "the sovereign funds need transparency and should be guided by best practice to avoid politicisation.
 
But I believe we should celebrate a possibility that government-sponsored funds will invest equity in development". 

And with food prices soaring, Zoellick also advocated a New Deal for Global Food Policy. 

"The World Bank Group estimates that 33 countries around the world face potential social unrest because of the acute hike in food and energy prices.
 
For these countries, where food comprises from half to three quarters of consumption, there is no margin for survival." 

Mr Zoellick said the immediate priority was for the United States, the European Union, Japan and other developed countries to provide the United Nations' World Food Programme (UNFPA) with the $500 million it needed for emergency food supplies.

For its part, the bank is assisting by backing feeding and cash programmes for vulnerable people and public work for food programmes.   

But he said a New Deal for Global Food Policy also required a shift from traditional food aid to funding to help build local food markets and boost farm production and so help create a "Green Revolution" for sub-Saharan Africa.   
 
Agriculture lending 

"We will almost double our own lending for agriculture in Africa from $450 million to $800 million and can help countries and farmers manage systematic risks, including through financial innovations, to counter weather variability, such as drought."
The Doha Round

The World Bank chief also cautioned that the time was "now or never" for breaking the Doha Round impasse and reaching a global trade deal. 

"This moment of decision is not only for the Doha Round.  It is for trade itself. Powerful voices across the political spectrum, including in my own country, are calling for, and rationalising, protectionism.
 
This economic isolationism signals a defeatism that will reap the losses, not the gains, of globalisation."

Mr Zoellick said the Bank Group was also working to help developing countries to seize the opportunities of high prices for energy and minerals, while at the same time ensuring the benefits for resource-rich countries were inclusively spread among their people.

Extractive Industries Transparency Initiative

He said the bank was building on the Extractive Industries Transparency Initiative (EITI), which encouraged resource-rich countries to publish and verify company payments and revenues from oil, gas and mining so their citizens could hold them more accountable. 

Ghana has already signed on to the EITI and it will publish what it gets from mining across the country for transparency sake.

Mr Zoellick said an EITI would expand this approach to include such areas as the awarding of contracts, improving economic management, and investing revenues effectively in sustainable development.

"By broadening the beneficiaries of resource development, we can advance inclusive and sustainable globalisation. Anti-corruption and transparency will strengthen citizens' confidence in their governments; respect for the environment will add to sustainable growth, and effective access to mineral and energy resources will strengthen the sustainability of globalization's benefits for other economies," said Zoellick.

He said a planned EITI would be launched in Guinea, adding that the successful development of Guinea 's rich resources could strengthen sustainable development for the entire region.

— Credit: The World Bank