Mould Iddrisu: Let's respect selection process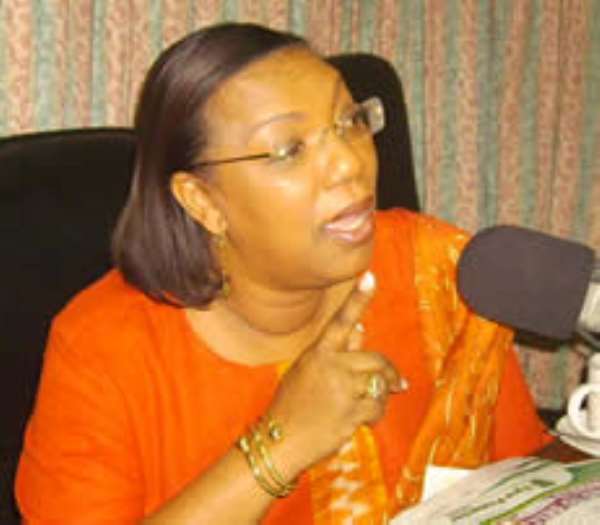 Listen to Betty Mould Iddrisu talk to Kojo Oppong-Nkrumah
Mrs Betty Mould Iddrisu, tipped as one of the favourites to pick the National Democratic Congress (NDC) running mate slot, says she is somewhat dismayed at media reports that the process is becoming a source of dispute in the party.
She told Joy FM's Kojo Oppong-Nkrumah on the Super Morning Show, Thursday, that she is grateful though, for all the tremendous support she has so far enjoyed, particularly from NDC women including former First Lady, Nana Konadu Agyemang-Rawlings and indeed all Ghanaian women, but she insists that the process should be respected to guarantee its integrity.
"I will not wish to see any selection process that I am involved in becoming a source of dispute within the party. Let me implore all those who are interested in the welfare of our party, the NDC, to allow this selection process to be conducted with integrity and the respect that must go into the final decision of the running mate and to the NDC flag bearer. I respect the party processes, I respect the party's constitutional provisions which enable Professor Mills to select his running mate with the approval of the party, the Council of Elders and I have faith in Professor Mills, in the party, that all of this selection will be done in accordance with those processes," she said.
Mrs Mould Iddrisu said she did not expect the open declaration of support for her candidature by the former First Lady to jeopardise her chances (since many may interpret her selection as an imposition on Mills by the Rawlingses) and said it was typical of Mrs Rawlings to speak passionately of her convictions and that should not be a danger at all.

"Madam Rawlings is also a very independent minded woman like myself. She has very passionate beliefs in gender issues and she believes that this is the time, as I do, for a woman. She expresses her beliefs I believe very strongly but I'm not quite sure of all that went on, but as I said, all I have is faith and trust in the processes that will go on and I don't see why somebody expresses support for somebody else, this should mar your chances, but I remain to be advised by the party."
She was hopeful that the party will overcome the issue in no time, since the NDC as a party has surmounted far bigger problems before.
But she counted herself very much in the race, and laughed off a suggestion if she was still interested in the slot given the controversy that has attended the selection process so far.
"Why not, this is politics, this is politics, and I believe that all those who know me also know that I have a certain professional attitude to these things and I also believe that you shouldn't believe everything you hear in the media and you shouldn't take offence at some of the things that have been said. This is politics. We are all in this struggle together, some of us have had to take some hits more seriously than others because we are doing grounds breaking work. This is the first or it could be the first time for a woman is selected to the high position. The stakes are high, my brother, don't let us mince any words about that my brother. The stakes are high, we are all for it but at the end of the day, let me assure everybody that we will all come back together to work for the party in order to ensure victory in December at the end of 2008. That is the important thing."
She described Professor Mills as an old friend whom she visited shortly before she returned to London and during their interactions, Prof Mills assured her that she was duly being considered and his decision will be communicated to her in due course.
Author: Isaac Yeboah