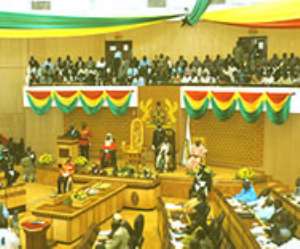 As the country prepares for the next general election in December, it is now clear that the next Parliament will miss the services of at least 14 experienced parliamentarians who have publicly declared their intention not to seek re-election.
The number could, however, go up in the event of some of the experienced ones either losing out during their respective party primaries or in the parliamentary elections in December.
Among the 14 experienced parliamentarians not seeking re-election are three National Democratic Congress (NDC) MPs who have been in Parliament since 1993.
They are Mr Samuel Sallas-Mensah, Upper West Akim,.Mr Ken Dzirasah, South Tongu, and Mr. Francis Agbotse, Ho West.
From the New Patriotic Party (NPP) side, veteran MPs who will not seek re-election are J. H. Mensah, Sunyani East, Mrs.Gladys Asmah, Takoradi, Mr. Yaw Osafo-Maafo, Akyem Oda, Nana, Akufo-Addo, Abuakwa South, Ms Theresa Amerley Tagoe, Ablekuma South, Mr S.K. Boafo, Subin, Mr Kwamena Bartels, Ablekuma North, Dr Kofi Konadu Apraku, Offinso North, Dr Kwame Addo-Kufuor, Manhyia, Mr Kwadwo Adjei-Darko, Sunyani West, and Mrs Grace Cole¬man, Effiduase-Asokore.
So far, seven veteran MPs have indicated their intention to continue to be part of the next Parliament and bring their experiences to bear on parliamentary proceedings.
They are Mr Alban Sumani Kingsford Bagbin, NDC MP for Nadowli West, Mr E.T. Mensah, NDC MP for Ningo-Prampram, Mr Hackman Owusu-Agyeman, NPP MP for New Juaben, Mr Edward Doe Adjaho, NDC MP for Avenor-Ave, Mr John Akolgu Tia, NDC MP for Talensi, Mr Ishmael Ashietey, NPP MP for Tema East, and Mr G.K.B. Gbediame, NDC MP for Nkwanta South.
Mr Sallas-Mensah, who has been in Parliament for 15 years, told the Daily Graphic, "I think I have served my people to the best of my ability and it is now time to quit and allow others to come in and pay their due."
He said he took the decision not to contest again soon after the 2004 elections.
"I think enough is enough," he said, adding, "I think I have done my national service. I want to work in another area. It could be within the executive when the NDC comes to power or any other public office or civil organisation."
He thanked his constituents for the trust they had reposed in him all these years, even though he was not an indigene but just a resident of the area.
Ms Tagoe, whose announcement that she would not contest the seat took many by surprise, has been in Parliament since 1997.
The 64-year-old MP said her decision was based on pressure being mounted on her by her children to quit in order to have time to rest after more than 12 years of active politics.
Ms Tagoe also told the Daily Graphic, "I feel , it is now time for me to give a chance to the up-and-coming politicians in the constituency to contribute their quota towards national development."
She said the young ones who had been on the sidelines since the country returned to multi-party democracy should now be encouraged to build on the foundation she had laid over the years.
For the Minister of Local Government, Rural Development and Environment, Mr Adjei-Darko, his decision not to contest the Sunyani West seat he had occupied since 1997 was taken in 2004.
"If I decide to contest the seat during the forthcoming election, I will win outright because my deeds will carry me through," he stated.
But, according to him, he had decided not to contest again because "I consider my tenure in Parliament as a stage. I have played my part and it is important for me to give way for others to come and play their part."
Mr Adjei-Darko explained that when a person reached his peak it was better for him to realise it and quit before he began to fall.
Unlike his colleagues who had given up their seats, the Minority Chief Whip, Mr Tia, who has been an MP since the country returned to constitutional rule in 1993, has decided to contest the seat for the fifth time.
The MP, who started as a back bencher in 1993, has risen through the NDC leadership in the House to become the Minority Chief Whip. He is one of the few MPs in the House who are going to contest for the fifth time.
In fact, Mr Tia is known among his peers as ''a regional MP" due to his commitment not only to his constituency but also the whole Upper East Region.
He told the Daily Graphic that he did not have a personal drive to contest the seat and that his fifth attempt was a decision from the rank and file of the NDC from his constituency and the national leadership, saying that, according to them, "I have performed well as an MP and there is still more that they will gain from me if I win the seat for the fifth time."
He said a survey conducted by the NDC executive in the constituency revealed that the people "still need me as their MP".
Secondly, Mr Tia said if parliamentary democracy was to be entrenched, there should be a precedence that people could refer to.

One of the MPs on the NPP side of the House whose skills in debating have won admiration is the MP for Asante Akim North, Mr Kwadwo Baah-Wiredu.
As the current Minister for Finance and Economic Planning, he has been responsible for the presentation and defence of the government's economic and financial policies in the House since 2005.
Already he has won the seat on three consecutive times and is now poised to contest the party's primary to give him the mandate to contest the seat for the fourth time.
Although some members of the party in the constituency are poised to contest the big man, Mr Baah-Wiredu said he was not deterred "because democracy thrives on competition".
He told the Daily Graphic that he still had an unfinished business both for the constituency and the party, and that had informed his wish to contest for the fourth time.
The Minority Leader, Mr Alban Bagbin, who is seeking election for the fifth time, is one of many MPs who are unhappy that many of the experienced sitting MPs are not seeking re-election.
He said for parliamentary democracy to be consolidated and entrenched, "we need pillars not only in terms of institutions but the human resource whose expertise must be tapped for the general good of all."
Mr Bagbin said in a Parliament where there was a high attrition rate, there was barely any institutional growth as the institution kept on re-inventing the wheel.
"It is on that basis, that I call on my colleagues contemplating not to seek re-election to reconsider their decisions and let us continue to serve Mother Ghana," he pleaded.
He said it was an honour to serve one's people and country, for which reason he would for ever be grateful to the people of his constituency and Ghanaians for giving him the opportunity to make a difference in their lives.
The Minority Leader said he entered Parliament in January 1993 with abundant zeal and enthusiasm to make an impact on his constituents in terms of physical and human development.

"By the grace of God I had ample opportunity to serve not just my people in the constituency but the cause of humanity in general. I started as MP in Ghana and now I've been MP in the International Parliamentary Union (IPU) since 2001, the Commonwealth Parliamentary Association since 2001 by virtue of my position as Minority Leader, a founder member of the Global Organisation of Parliamentarians Against Corruption (GOPAC), served with the African Parliamentarian Network Against Corruption, among others," he said.
The MP for South Tongu, Mr Kenneth Dzirasah, also one of the longest serving MPs since the return of constitutional democracy in 1993, said his decision not to seek re-election was based on his determination to give way to young people in the constituency to have a feel of leadership.
Although he subscribed to MPs being in Parliament for long, he said such MPs must give way when age was not on their side and they realised the fact that they could not be leaders in perpetuity.

"For this reason, I decided I will step down for others to come in to contribute their quota in Parliament and the country," he said.
He said he would be available to offer his services to the new Parliament in any position.
For his part, Dr Kwame Addo-Kufuor said although he would not contest the eletions, he would continue to work towards the development of the area and the country as a whole.
He said two people had so far shown interest in contesting his seat on the ticket of the NPP and described the two as intelligent with a strong commitment to the development of the area.
"I expect a peaceful contest in Manhyia and promise to fully support whoever wins to maintain the seat for the NPP," Dr Addo-Kufuor declared.