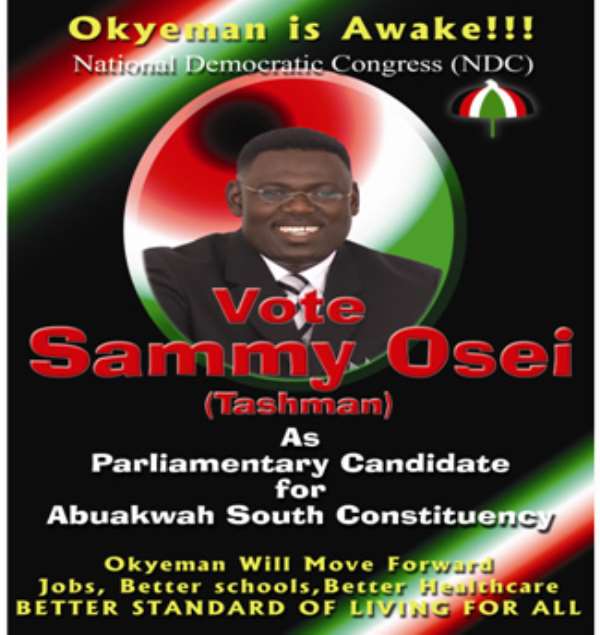 Sammy Osei
Sammy Osei who is known to friends, family and peers as "Tashman" is NDC's parliamentary candidate for Abuakwa South Constituency. Sammy and the good people of Abuakwa South will deliver the constituency to the NDC and place it on a path to economic advancement. Sammy Osei is a fourth generation descendant of Osofo James Birikorang; First senior Presbyter of the Presbyterian Church in Akyem Abuakwa. Osofo Birikorang was instrumental in translating the Holy Bible from English to the Twi version.
As a little boy, the late William Ofori-Atta (Paa Willie) showed keen interest in little Sammy. Paa Willie made little Sammy his kid organizer for his religious outreach program at Kyebi. Sammy was tasked to gather his kid-friends on Sunday evenings at Osofo Birikorang Fie, where Paa Willie will use his religious teachings to instill a strong sense of morality, integrity, truthfulness the need to give up oneself for the general good of all into Sammy and his friends. These intangible gifts of virtue have been the defining blocks of Sammy's unflinching moral and ethical makeup.

After Graduating from Abuakwa State College (ABUSCO)), Sammy's selflessness and commitment to the development of his community was again on display. He helped Mr. Thomas Kani of Ahwenease established the Christ Head preparatory School at Kyebi. Sammy voluntarily, taught at Christ Head School where he emphasized on strong academic foundation for the little children. Today, some of these children are seniors in Universities and Polytechnics across the country.
As a young NDC/EGLE party activist prior to the 1992 parliamentary and presidential elections, Sammy and a few friends aggressively pursued the member registration and education exercise which ensured a resounding victory for the NDC in both parliamentary and presidential elections in the then Abuakwa constituency.
Sammy derives his inspiration from true selfless, generous and righteous sons of Akyem Abuakwa such as Nana Marfo (Ofori Atta III),William Ofori Atta (Paa Willie), Danny Ofori-Atta (Mabey) all of blessed memory and Dr. Danso-Boafo, former Minister for Health for their selfless support and contribution towards the socio economic advancement of Okyeman and Ghana as a whole.
In America, Sammy enrolled in one of America's most prestigious private Universities; DeVry University where he attained an Associate degree with honors in Health Information Technology and a Baccalaureate (Bachelor degree) in Technical Management with concentration in Health Services Management.
SAMMY'S VISION FOR ABUAKWA SOUTH CONSTITUENCY
Sammy will end the divisiveness and marginalization that has characterized Akyem Abuakwa politics. Sammy's vision is to put together, a coalition of progressive minds that will transcend political lines with the goal of fashioning out programs that will put Okyeman on the path to visibly measurable modernized state as envisioned by great leaders such as Nana Marfo. Sammy maintains the current level of socio-economic advancement in Abuakwa is unacceptable and requires drastic transformation to mobilize financial, technical, technological and human resources to facilitate modernization projects that will raise Akyem Abuakwa to its rightful status.
The friends and family of Sammy (FAFSA) Implores all within and outside Abuakwa South to join this crusade so together, we will depart from the politics of rancor, divisiveness and marginalization and move towards restoring hope, opportunity and measurable economic advancement to all.
NDC…….. EYE ZU EYE ZA