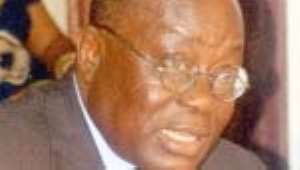 THE INSTITUTE OF Economic Affairs (IEA) has announced that plans are far advanced for two presidential debates to be held prior to the conduct of the December general elections.
For this reason, the public policy institution said a team has been constituted to work with political parties, state institutions, civil society organizations and the media to facilitate the debates in Accra and Tamale.
Fifty town hall meetings are also expected to be organized for parliamentary aspirants before the December presidential and parliamentary elections.
This comes after some presidential aspirants including Dr. Paa Kwesi Nduom of the Convention Peoples' Party (CPP) had expressed the desire to debate policy issues among themselves.
Dr Nduom noted that he wished a monthly debate was instituted for the presidential aspirants, but Dr Edward Mahama of the People's National Convention (PNC), John Evans Atta Mills of the National Democratic Congress (NDC), Nana Addo Danquah Akufo-Addo of the New Patriotic Party (NPP) and the only independent presidential candidate, Kwesi Amoafo-Yeboah, have all not yet responded.
The IEA, in a statement, assured Ghanaians that as it did in 2000 and 2004, it was committed to the tradition of organising presidential debates in the country.
The debate, it said, was expected to among other things provide a common platform for the various aspirants to dialogue with the electorate.
It would offer the aspirants the opportunity to discuss issues that affect their socio-economic and political advancement as well as help the masses to analyse and criticise the policies and programmes of the various aspirants to enable them to make informed and rational choices.
According to the IEA, the debate in the end would calm political tension that is likely to be witnessed in the country in the course of the various electioneering campaigns.
In the statement which was signed by Mrs. Jean Mensa, Administrator of the IEA, the public policy institution called for the support of all stakeholders in Ghana's democracy for the successful conduct of the debates among the presidential and parliamentary aspirants.By Emelia Ennin