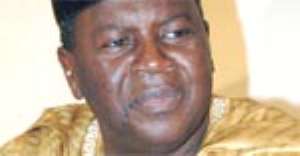 New Patriotic Party (NPP) presidential aspirants, who were paraded on Sunday at a mammoth rally at Kasoa in the Central Region, ahead of this month's congress, were caught in friendly fire as they tried to sell themselves to the party faithful.
The incident occurred when they took turns to tell the party what kind of stuff they are made of, and why they have the edge over the others in the heated flagbearership race.
After giving the crowd doses of what makes him tick, Nana Addo Dankwa Akufo-Addo said he had once tasted defeat at a presidential primary in 1998, but took it lightly and threw his weight behind the then candidate John Agyekum Kufuor.
Calling himself 'the next president for the next level', the once upon a time Foreign Minister appealed to other aspirants to muster courage to support him when he wins the December 22, 2007 congress.
But Alan John Kwadwo Kyerematen said Ghana is destined to be ruled by a leader who has John as one of his names.
According to him, the recent past had seen John Jerry Rawlings and John Agyekum Kufuor in office and contended that he should be given the nod to lock horns with John Evans Atta-Mills in the December 2008 general elections.
When he took his turn, Dr. Kwame Addo Kufuor, brother of the sitting President, said if the issue is one John handing over to another John, then he strongly believed that asking one Kufuor to succeed another Kufuor is a better arrangement.
His analogy was that, if Laryea and Richard Kingston (two blood brothers) could be called into the national soccer team (the Black Stars) based on merit, then his presidential bid should also be weighed solely on the scale of performance and track-record.
He said even if Prof. Mills changes from his door-to-door campaign to a man-to-man system, he would lose the next election.
One aspirant whose presentation received a standing ovation was Dr. Arthur Kennedy, who cautioned delegates about the kind of John they would be electing as president, saying not all the Johns are good for this country.
"I am not a John, neither am I a Kufuor. In fact, I am not a professor. My problem is that if we are not careful we will be picking a bad John for this country, just as we had some years ago. I hope to win this primary because I am a new face without bargain," he stressed.
On his part, Professor Kwabena Frimpong Boateng, former CEO of the Korle-Bu Teaching Hospital, said the nation was tired of being ruled by lawyers, whose trademark is always 'I put it to you, I put it to you'.
He said even though the lawyers had done their bit for the country, he was of the opinion that medical doctors would do the job better because their profession was guided by the principle of 'I will do it for you', instead of 'I put it to you'.
The heart surgeon, who boasted that he had the courage to remove a destroyed heart and replace it with a good one, asked delegates to pick a professor as NPP candidate so he could face the opposition National Democratic Congress (NDC's) Professor Mills.
While Felix Owusu-Adjapong said the party needs to present a candidate with no skeletons in his cupboard, Yaw Osafo-Maafo cautioned that the party would have itself to blame if it failed to pick the right person.
Jake Obetsebi-Lamptey advised delegates to desist from voting for aspirants as a thank you gesture to people who had paid them to vote for them.
Those who were, however, not caught in the crossfire included Boakye Kyeremanteng Agyarko, Dan Botwe, Aliu Mahama, Kwabena Agyepong, Papa Owusu Ankomah, Mike Aaron Oquaye, Dr. Kofi K. Apraku, Dr. Barfuor Adjei-Bawuah and Hackman Kwame Owusu-Agyeman.
Interestingly, no sign of hostility was noticed among the aspirants, as even Captain Nkrabea Effah-Dartey, who was disqualified at the last minute, was hugged by many.
Even though he took a back seat all through the programme, the disqualified aspirant was given the microphone to sing a song he claimed was from his 'heart'.
President John Agyekum Kufuor, in his keynote address, said he had every hope the party would come out stronger after the congress, saying the party had the capacity to produce 100 quality presidential materials.
From Bennett Akuaku, Kasoa