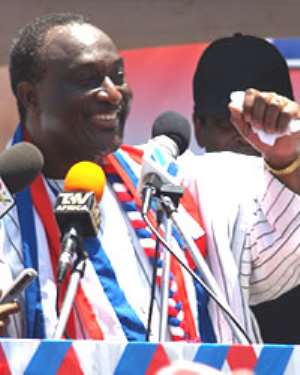 Mr Alan Kyerematen, a New Patriotic Party(NPP) Flag bearer aspirant on Thursday said the Party needed a presidential candidate who had mass appeal to woo floating voters.
He said the NPP needed a candidate who could woo the floating voters and persuade people across the political divide to vote for the party.
Mr Kyerematen was addressing a press conference in Tamale to round off his weeklong campaign tour of constituencies in the Northern Region.
He toured Yendi, Saboba, Chereponi, Salaga, Zabzugu/Tatale, Savelugu, Kumbungu, Tolon, Tamale North, Tamale Central and Tamale South constituencies.
Mr Kyerematen said he was the best candidate who could achieve this feat for the party because of his diverse background, humility and God-fearing nature.
He said he had great respect and admiration for the other aspirants, but was the best candidate to lead the NPP to victory in 2008 and also lead the country to sustained socio-economic growth.
Mr Kyerematen pointed out that all the credible opinion polls conducted so far showed that he was leading the race as the party's flag bearer adding: "My tour of the region has overwhelmed me, given me the assurance that come December 22, the delegates would give me the nod."
He said although he was campaigning for himself he was equally galvanising support for the party because: "This is not the time for Ghanaians to seek a change of government."
Mr Kyerematen said the President Kufuor administration had laid a solid foundation for the country's economic development and prosperity and it would therefore be suicidal to entrust the governance of the nation into the hands of people who would "experiment with trial and error".
He noted that the "Asian Tigers" had achieved their level of development because they had maintained their governments that were performing well for several years to ensure the consolidation of their economic growth.