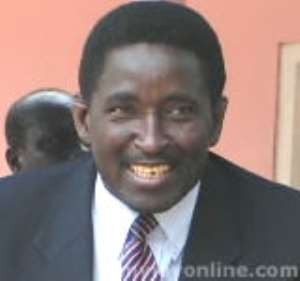 Captain (Rtd) Nkrabea Effah Darteh, a presidential hopeful of the New Patriotic Party (NPP) has called on delegates who would be attending the national delegates congress of the party in December to consider themselves, the party and Ghana before casting their votes for the selection of a flag-bearer to lead the party in 2008 general election.

He said, "Consider yourself, the party and Ghana or the 'YPG' philosophy before giving your mandate to a marketable candidate to lead the great NPP party".

Capt Effah Darteh was speaking when he addressed the executives of the Agona West and East constituency branches of the party at Swedru to round off his campaign tour of the 19 constituencies in the Central Region.

The MP for Berekum in Brong Ahafo Region noted that the delegates, known as "foot soldiers" were complaining bitterly about what they described as "long-term neglect by the party's top hierarchy".

According to him the foot soldiers stated among other things that there had been what he called "vast separation between the party and the government", which was a "recipe for disaster" in the party if care was not taken.

He said they explained that some District Chief Executives and MPs had "hijacked" what he called "lucrative programmes of the government".

The Aspirant noted that this had deterred many supporters of the party to go out on campaign programmes to explain the policies of the government to the masses.

He gave the assurance that he would pursue their interest and welfare if they give him the nod on December 22, 2007 to lead the party in 2008 Presidential and Parliamentary elections.

Captain Effah Darteh said the delegates demanded that they wanted a candidate who would check DECs and Ministers who undermined the activities of the party.

He announced that on November 11, 2007 he would file his nomination and denied rumours that he would align himself with some other aspirants before the congress.

The Presidential hopeful suggested that in future local executives of the party should select a DCE since majority of the supporters were "fed up" with the behaviour of some of them.

He pledged to intensify the rule of law, human development and effective decentralization of local government to enhance good governance.