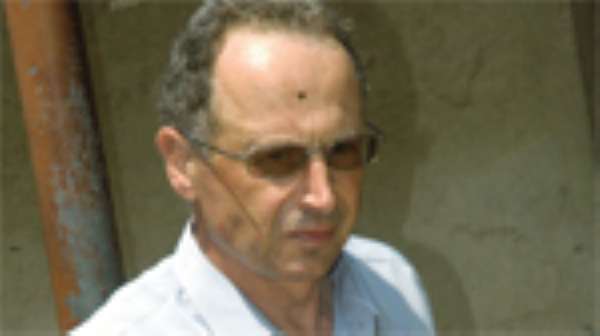 THE TRIAL OF Thomas Alan Tichler, a British national accused of defiling a three-year-old daughter of his host, yesterday could not come on at an Accra circuit court as scheduled.
This was because representatives from the Attorney-General's Department who are prosecuting the matter failed to turn up.
The suspect, 57, who was brought to the courtroom almost an hour after waiting outside, sat in the courtroom with his counsel as the clock ticked for the prosecution to show up.
They were however told by a court clerk after sitting in the court room for 20 minutes that the matter had been adjourned to today since the prosecution was late.
Thomas, looking quite unruffled about the trial, sat quietly in the corner of the virtually empty courtroom and spoke in low tones to a man believed to be a relative. He later left with his counsel after being told the trial judge had closed and that the case had been adjourned.
He is expected to be charged today with causing harm and indecent assault.
The alleged paedophile, who is a consultant, was said to have put his fingers in the private parts of the victim, an action which made the girl bleed profusely.
The incident happened at the residence of Thomas' host at North Legon, a suburb of Accra, on October 13, 2007, barely a week after the Briton's arrival in the country.
The victim and her siblings were left in the care of the suspect when their father went to purchase some items from town. The absence of the father gave suspect the opportunity to lure the little girl and insert his fingers into her private parts.
Later, the mother of the victim arrived from town and noticed blood in the victim's panties. When she queried her, the little girl mentioned the consultant as the one who inserted his fingers in her private parts.
The little girl has reportedly undergone surgery after the incident.
By Fidelia Achama