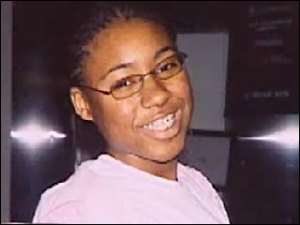 It's as tragic as a story as you can find, honor student goes on a trip to Ghana to help give out supplies to an orphanage of children with AIDS. All Phylicia Moore wanted to do is travel to Ghana and be a help to those in need. Phylicia Moore was found dead at the bottom of the pool at the hotel where her classmates were staying. It seems that the police in Ghana are just as incompetent handling this case as the officials in Aruba are handling the Natalie Holloway case. The main difference is Phylicia Moore is black and and Natalie Holloway is white. That has to be the only reason why there has been no public interest in this tragic event. This has been like a tiny blip on the media radar and that may be an exaggeration.
As the FBI all but bullied its way into assisting the police in Aruba , they have taken a more passive stance with the Phylicia Moore case stating that they usually have to wait for the country officials to request assistance with cases involving Americans and the Police in Ghana have made no such request. Imagine that, the American officials are not disregarding another countries' policies and laws. They sure have great timing. You would have thought Natalie Holloway was on the Bush Twins with the amount of coverage by the media and the way the FBI has been assisting with that case.
Phylicia Moore's parents want justice and answer for their daughter and it seems they are getting no where with the investigation going on in Ghana. The autopsy that was performed in Ghana stated that there was no foul play and pending a toxicalogy report, it looks like an accident. This would be just a tragic accident if it were that simply. Phylicia Moore's parents had an independent autopsy done and it was determined that Phylicia Moore's body was not in the pool long meaning that her body was moved to the pool and drowning may not have been the cause of death.
There are so many questions that need to be answered in this case. Why did the adults in charge not do a bed check at night in a foreign country with all that has happened the last couple of years? Why have only the students and the adults been questioned in this case and no one else? Why not check the security cameras during the 11 hour span that Phylicia Moore was unaccounted for? Why no demand for involvement in this case by the FBI?
and finally …… What happened to Phylicia Moore?