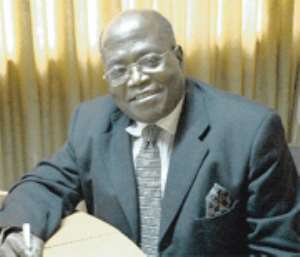 There must be something special about the initials S., K. and B. This is particularly so from the particulars of three of Ghana's most distinguished scholars and diplomats who incidentally, also go by the surname, Asante.
In Ghanaian academia, most people get confused when they hear this name. They wonder if it is the chief, the politician and columnist or the professor who was also a Daily Graphic columnist. But there is something common about these three Asantes — they are all former diplomats and attended Achimota School.
But this Asante would have ended up as a messenger had it not been for his determination to have secondary education.
At a time when school had reopened, he was in Tarkwa waiting for the response to an application for employment as a messenger at UAC, Tarkwa.
For that reason, he missed three scholarship opportunities to Adisadel College, Mfantsipim and Achimota Schools because he reported late.
Fortunately Abuakwa State College, which had also awarded him a full scholarship, had just reopened so he took the opportunity.
He explained that he was in Tarkwa because as soon as he completed Standard Seven, he was asked by his father to join his elder brother who was working there to find some work to do. His elder brother was at that time working at a printing press in Tarkwa.
Not even the frustrations he went through before he completed Standard Seven could deter him from pursuing further education.
From Standard Five to Six, he wrote the entrance examination into various secondary schools, passed and was awarded scholarships but "my parents said they would not allow me to go to secondary school when I had not completed Standard Seven".
But young Asante managed to sail through the numerous challenges in his childhood to become Prof Samuel Kingsley Botwe Asante. Prof S.K.B. Asante, as he is popularly known, has over 40 years working experience at the national, international and the United Nations in the fields of academia, management, consultancy and advisory services.
"My childhood was very challenging because my parents were illiterate and education was not their priority. It was a catechist in our village, Soabe, who managed to convince my dad to send me to school," he disclosed in an interview with the Junior Graphic.
A proud Akyem scholar from the Oseawuo Division of the Akyem Abuakwa Traditional Area, Prof Asante was born at Soabe near Akyem Oda. Throughout his childhood, he grew up staying with relatives of his parents and other people.
Living in the village required that every Saturday he went to the farm to weed and carry back home foodstuffs such as plantain and yams.
When he returned from the farm, he went to the riverside, which was about 300 yards from home, to wash clothing belonging to his guardians. But the most painful chore for him at that time was to pound fufu after school every day, even though he did not eat that dish.
Young Asante started school at the Akyem Swedru Methodist Infant School. At that time, he was staying at Akyem Aduasa and so for the six years that he schooled at Akyem Swedru he walked every day for six kilometres to and from school.
On days that he was not lucky and it rained, he cut plantain leaves and used them to cover himself.
Fortunately, his toils were cut short when, on reaching Standard Four, he went to stay at Akyem Swedru with a famous storekeeper there called J.O. Appiah. That man took special interest in Asante's education "because I was always the first boy in class".
He recalled that in those days in their school a big gathering was held at the end of the term in which the one who placed first was carried shoulder high. He was always carried by the students because he was first.
However, that did not go down well with some of his mates who sometimes insulted him and threatened to beat him up.
Prof Asante described himself as a studious person when he was a child.
"I liked reading very much. May be I would not have been able to publish extensively had it not been for that," he said.
Young Asante continued at Awisa Boarding School near Akyem Oda. At the time when he was a prefect in Standard Seven at the school, Mr Yaw Osafo-Maafo, a former Minister of Finance and Education and Sports, was in Class One in the same school.
While studying at Abuakwa State college, Prof Asante stayed with Mr Willam Ofori-Atta (Paa Willie), a founding member of the United Gold Coast Convention (UGCC) who was the headmaster of the school at the time.
At Paa Willie's house, Young Asante got to know Dr J.B. Danquah, who was Paa Willie's uncle, and a regular visitor to the house. These two, he said, shaped his political ideology.
For that matter, while at Achimota School for his Sixth Form, he used to sneak out of school to Adabraka to listen to lectures by Dr Danquah, Mr Edward Akufo-Addo and Baffour Osei Akoto who were all founding members of the UGCC.
That was the period when the nationalist movement in the country had started and he confessed that he loved and enjoyed it so much.
Prof Asante attended the University of Ghana in 1956 for his first degree in Modern History. From there, he worked at the Auditor-General's Department as a government auditor from 1959 to May 1962.
He worked as an administrator for the University of Ghana and subsequently joined the Political Science Department.
He studied privately for the external Masters degree in Economics and Ph.D. at the London School of Economics and Political Science, University of London.
Prof Asante is a member of various international professional associations and also a research fellow for various universities across the world.
He is currently a member of the National Peer Review Mechanism (APRM) Governing Council.
He is married with four children and 10 grandchildren.
Story by Augustina Tawiah