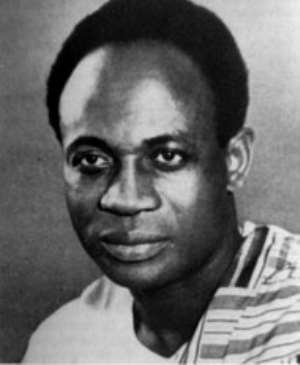 Dr Robert E. Lee, a former Lincoln University mate of Ghana's First President, Osagyefo Dr Kwame Nkrumah, on Friday donated photos of the ex-president to the Kwame Nkrumah Mausoleum. Dr Lee said the donation of the photos was his contribution towards the country's Golden Jubilee Celebrations.
The photos, showed Dr. Nkrumah in a group pose with the Lincoln soccer team in 1939. He also handed over a charcoal-drawn portrait of Nkrumah in his hey days as a freedom fighter. The portrait was the work of Herman Bailey, a former California tutor of art at the then Winneba Ideological School handed over to Dr Lee by Professor K.A.B. Jones Quartey for safe-keeping. He said the photos had been his long cherished assets which he had jealously guarded after several attempts by international exhibitors to have them. "I have waited for the opportunity to present the photos of Africa's Greatest Son of the 20th Century."
Dr Lee bemoaned the inability of the country's historians and intellectual community to tell the true story of African exploits and great heroes who fought for the liberation of the continent. He urged the youth to research into works and speeches of great African leaders like Dr Nkrumah, Dr. W.E. B. Dubois, Dr Nnamdi Azikiwe, and Dr George Padmore to serve as inspiration to continue the struggle for equality of the African in any part of the world.
Dr Lee, who is 86 years old was born in America where he studied Dentistry in Lincoln University at the time Dr. Nkrumah was a student at the same university. He relocated in Ghana in the late 1950s and is a naturalized Ghanaian who had practiced dentistry until his retirement in 2002. Mr William Hrisir-Quaye, Director of the Kwame Nkrumah Memorial Park, acknowledged the gesture and encouraged all persons in possession of memorabilia of Dr Nkrumah or any of his works to submit them to the management of the Park