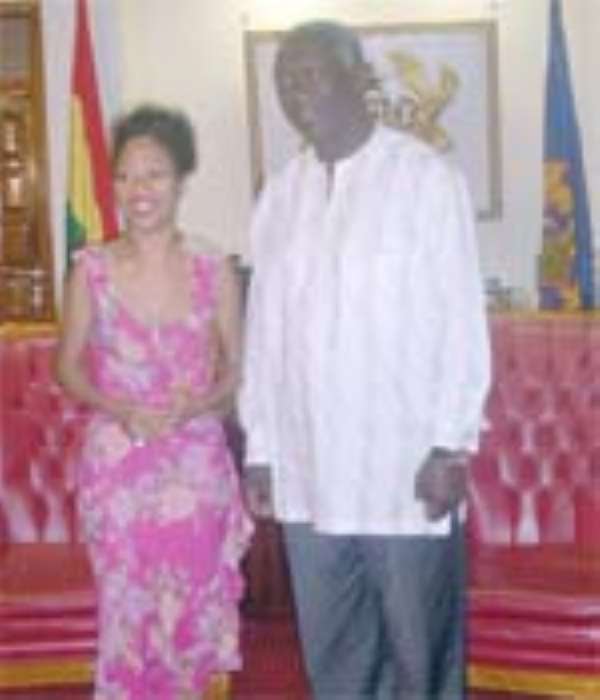 PRESIDENT JOHN Agyekum Kufuor continues to receive visitors at the Castle, Osu, after the Independence day celebrations.
Among the guests were Samia Nkrumah, the only daughter of Ghana's first President , Dr Kwame Nkrumah, Rev. Jesse Jackson, a Civil Rights Activist in the US, and a special envoy from Benin, Jocelyn Degbey, Minister of Energy, Mines and Water Resources.
Meetings between President Kufuor and Rev. Jackson, and the Beninois envoy, were held behind closed doors.
Samia Nkrumah, who was the last to pay a courtesy call on the President, was visiting the country for the first time in 34 years.
She told President Kufuor that she decided to come back to Ghana to participate in the Golden Jubilee celebration.
According to Samia, who is now based in Italy, her visit was not only for the Nkrumah family, but for all Ghanaians, irrespective of their political affiliations.
President Kufuor in a brief remark was full of praise for Samia, saying, "This is your home; you must feel free to visit at any time. I can tell you, we all look at you as sons and daughters of Ghana."
He pledged government's preparedness to do everything humanly possible to make her stay comfortable.
On Fathia Nkrumah's ill-health, President Kufuor directed the Ghana Embassy in Cairo, Egypt to stay closely in touch with her and extend all the necessary assistance.