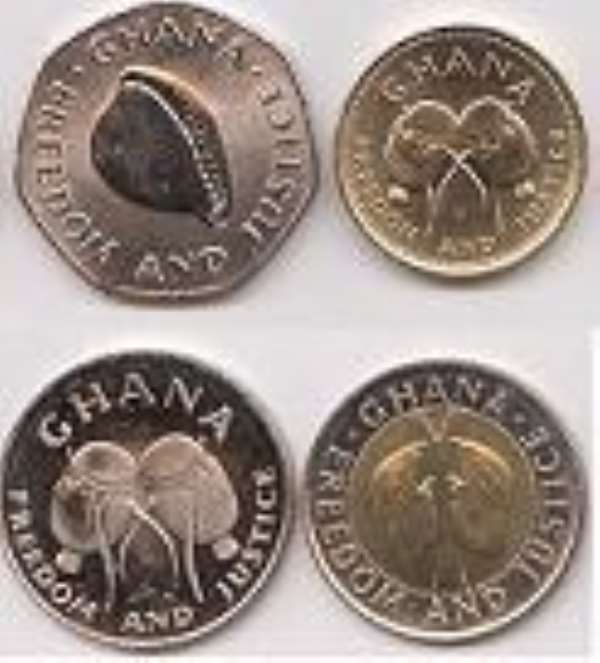 Cedi notes and coins in circulation are to be re-denominated and replaced with Ghana Cedi (GH Cedi) and Ghana Pesewas (Gp) with effect from July 2007, Dr Paul Acquah, Governor of Bank of Ghana, has announced.
Announcing this at the Chartered Institute of Bankers Annual Dinner and Awards Night in Accra, Dr Acquah said the current notes, which are in denominations of 20,000, 10,000, 5,000, 2,000 and 1,000 and the coins in 500, 200 and 100 would be re-denominated 'by setting a 10,000 cedis to one new Ghana Cedi.
This means that 500,000 cedis would be equivalent to 50GH Cedis, 200,000 cedis would be equivalent to 20GH cedis, 100,000 cedis would be equivalent to and 10GH cedis, 5,000 cedis would be equivalent to 50Gp, 2,000 cedis would be equivalent to 20Gp and 1,000 cedis would be equivalent to 10Gp.
Dr Acquah said the series of the new set of notes would be '0ne GH Cedi', 'Five GH Cedis', '10 GH cedis', '20 GH cedis' and '50 GH cedis' whilst the coins takes 1Gp, 5Gp, 10Gp, 20Gp, 50Gp.
He said both the old and new cedi banknotes and coins would be in physical circulation for a period of six months after which the old notes and coins would only be exchanged at the Bank of Ghana and any commercial or rural bank but would not be legal tender.
The Governor of the Central Bank said the external value of both the old and new currencies would be the same as the purchasing power would not change because the cedi would not be devalued or re-valued.
The current notes which are in denominations of 20,000, 10,000, 5,000, 2,000 and 1,000 and the coins in 500, 200 and 100 are placing significant deadweight burden on Ghana's economy.
Explaining further the rationale, Dr Acquah said the deadweight burden of the current cedi denominations were in several forms that included 'high transaction costs at the cashiers, general inconvenience and high risks involved in carrying loads of currency for transaction purposes.
Others were increasing difficulties in maintaining bookkeeping and statistical records and ensuring compatibility with data processing software and the strain on payments system, particularly Automated Teller Machines (ATMs).
Dr Acquah said as the economy grew increasingly complex in financial transactions, there would be difficulties in price tagging at shops and supermarkets and inability to use vendor machines and car parking meters that were part of a modern growing economy.
The Governor of the Central Bank noted that experience in other emerging market economies suggested that re-denomination of a currency by dropping zeros in the relative prices of domestic price relation would lead to significant efficiency gains in the context of strong economic fundamentals and macroeconomic stability.
This, he said was the situation characterising Ghana's economy today hence the policy decision.
Dr Acquah explained that there existed a high fixed of re-denomination because it took resources, organisations and time to implement, including recalibration of certain equipment, like the ATMs and Accounting Software.
"Historical analyses suggests that re-denominations have been successful in an environment of macroeconomic stability, that is declining inflation, stable exchange rate, fiscal prudence and well anchored expectations of policy credibility. And the benefits are incalculable," he assured.
Over the past five years, Dr Acquah said macroeconomic stability had taken root, inflation and interest rates were falling and the currency had been stable…under a policy of commitment to fiscal and monetary prudence.
"This creates the appropriate conditions for the re-denomination exercise in Ghana," he added.
Under the current notes regime and pricing structure, the unit price of the smallest commonly purchased item in the consumer basket is at least 500 cedis; with the modal purchases at about 5,000 cedis.
However, he mentioned that the external value of the cedi would continue to be determined by the market forces.
The Governor of the Central Bank said achievements in the economy and the successful stabilisation were fundamental to its growing resilience and strong export growth, expanded inflows of private transfers and debt relief.
He said banks had absorbed the impact of the surge in inflation and exchange rate depreciation and had now rebuilt their capital adequacy ratio to prudently safe levels.
"The industry is well capitalised, sound, and liquid with a rapidly expanding credit book. The quality of loan portfolio is improving with non-performing assets ration on the decline," he said.
Distinguished personalities in the banking industry including Dr Acquah were awarded with Fellowships and Associates of the Institute.
Mr I. Owusu-Hemeng, the newly elected President was inducted into office to succeed Mr E. Boakye-Agyeman.