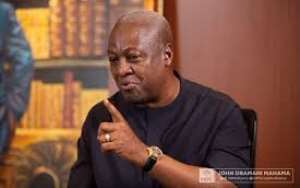 Former President John Dramani Mahama
There is a worsening economic crisis that is making life unbearable for the ordinary citizen as general commodity prices keep rising on the local market, a situation that has been attributed to the cedi's frequent flop.
The country is also battling high debt, as the government, on Monday, December 5, officially launched a debt exchange programme to restore the economy and spur growth.
However, the Deputy Director of New Media at the Office of the President, Samuel Bryan Buabeng says the NPP government is doing far better than the erstwhile Mahama-led NDC.
According to him, Ghanaians still have stable electricity to do their business, unlike the erstwhile Mahama-led NDC government with "dumsor" (an energy crisis and unstable electricity).
The vocal presidential staffer added that though there are economic crises, workers are still being paid their full salaries every month.
"Amidst global crisis, we're grateful our lights are on 24/7 and government workers receive their salaries every month including former President John Dramani Mahama and his staff. WE SHALL PREVAIL," he wrote in a post on Wednesday, December 7.
In another tweet on Tuesday, December 6, Mr. Bryan argued: "It [the country's economic challenges] would have been worse under them [the NDC]."