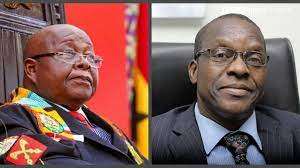 Prior to the election of speaker to the 8th parliament of Ghana, names like Justice Dotse and Ayikoi Otoo had been rumored as a possible replacement for Prof. Mike Ocquaye. It was also rumored that Prof. Mike Ocquaye did not have the full support of the NPP MPs. However, the General Secretary of the party disclosed that the President, as the de facto Head of the Party, preferred to maintain Prof. Mike Oquaye as Speaker of Parliament for "continuity." Out of respect for the President and party leadership, all dissenting positions discontinued, but the dissent was very clear from the parliamentary secret ballot that made Hon. Bagbin the speaker.
NPP Finland branch is worried about the possibility of history repeating itself in parliament if the finance minister's fate is decided through a secret ballot. Although, it is reported Members of Parliament (MPs) on the Majority side seeking the immediate removal of Ken Ofori-Atta as Finance Minister have rescinded their decision after meeting President Nana Addo Dankwa Akufo-Addo on the matter, but are all the over 80 dissenting majority MPs on board with this decision?
The NPP Finland branch supports the national headquarters' call for calm, continuous engagement of government as well as the parliamentary group for an amicable resolution to the impasse, and the president's plead with the legislators to exercise restraints until Ghana concludes negotiations with the International Monetary Fund (IMF). However, the party branch in Finland is more worried about a disclosure the leader of government business in Parliament and the Minister of Parliamentary Affairs, Osei Kyei-Mensah-Bonsu has made in a radio interview according to https://dailyguidenetwork.com/95-mps-back-removal-of-ofori-atta-says- majorit y-lead er/.
"On the aspect as to whether members were convinced about the President's request, he said "No, after the president had spoken, nobody did express any contrary opinion, infact nobody spoke after the President had spoken, it was I [OKMB] as the leader on behalf [of the members] that thanked the president for being candid with us and we asked to recline, to consider and digest his plea."
The Minority Chief Whip, Mohammed-Mubarak Muntaka has filed a motion on behalf of the NDC MPs requesting the House to pass a vote of censure on the Minister for Finance, Ken Ofori-Atta, in accordance with Article 82 of the 1992 Constitution. The majority leadership must do some more work in the house to make sure that events leading to the election of Bagbin as speaker does not repeat itself. In case the dissenting views still persist, Ofori-Atta must be made to resign before NDC wins another crucial election on the floor of parliament.
... Signed ...
Kwasi Owusu-Afriyie (Branch Secretary)