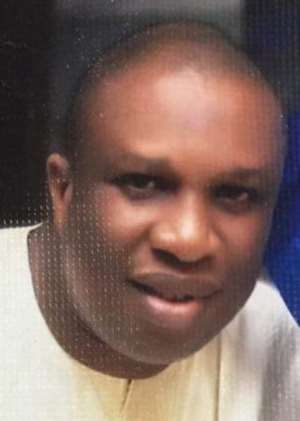 A gentleman, by all definitions. A man of character, by all characterizations. An autochthonous Ìjèsà son, by all interpretations. An illustrious Ìjèsà son, by all illustrations. A distinguished professional, by all explications. A family man, by all exemplifications. And at the risk of stating the obvious, a Root, by all appurtenances. Always calm in his mien, he is exemplar in his exudation of control.
His vivacity is balmy. Effervescent but quiescent. His verve is halcyonic. His guarded excitement is contagious. His coming has been in the making for some time. Today is the D-Day. To the Roots Club, he has been an asset as he has been to Ìjèsà land. Committed. Dedicated. Devoted. His love for the Roots Club and Ìjèsà land is on the pedestal of level-headed zealotry. He pursued those interests with a controlled and enlightened blitz. He is generous. He gives of himself with ease. His leadership traits have been incandescent. He likes to lead by example to inspire and encourage others. He puts his money where his mouth is. He talks the talk and walks the walk. Members are very proud to have him in the saddle. The atmosphere is permeated with confidence and trust. The trajectory of competence and selflessness buoys the confidence in his leadership. The celebration itself is seen as the genesis of a new era. A new era to build on what his predecessors have valiantly contributed. The Roots Club of Ìjèsà land has become a bequeathment. It is graduating into an invaluable heritage. A heritage for all times and all seasons. A propeller of progress and prosperity for Ìjèsà land. A brawny bulwark for its members in times of unexpected challenges. A stubborn rock at the banks of a sweltering waves of the sea. Root Oguntominiyi knows this very well. He understands that he has an obligation to hold the fort. He knows he has a responsibility to extend the coast of our Club. He has the know-how to strengthen the walls to withstand the vicissitudes of inclement time. He knows there is the need to build and inspire the Club to be able to vitiate the viciousness of the vagaries vaunted by fluctuating times. His becoming the President today is an act of putting the round peg in the round hole. The excitement of his investiture is activated by the confidence imbued by his trajectory. A trajectory of service. A trajectory of love. A trajectory of dedication, and commitment to the pre-eminent Club in Ìjèsà land. Yes, his is a trajectory of reliability, dependability, and authenticity. His reputation goes before him. Oguntominiyi Oluyemi Oladimeji was born to the family of late CHIEF JOHNSON AKINSEHINDE and late MRS. JANET ADUNOLA OGUNTOMINIYI in Ikeji Arakeji Ijesa in the present Oriade Local Government area of State of Osun.
He started his primary school education at United Anglican Primary School, Esa-Oke from Jan 1966 -Dec 1971. After his elementary education, he proceeded to St. Lawrence's Grammar School, Imo, Ilesa, from Jan 1972 to June 1976. On completion of his secondary education, he proceeded into the prestigious University of Ilorin, where he bagged B.Eng. in Civil Engineering with a Second-Class Upper division. He started his engineering career with the Federal Civil Service Commission under the Federal Ministry of Works and Housing as a Pupil Engineer. By dint of hard work, dedication to service and demonstration of excellence in service, he rose through the ranks first as Executive Engineer Grade 1 to the enviable and exalted position of Director, Federal Highways Construction and Rehabilitation. He retired as Acting Permanent Secretary in the same Federal Ministry of Works and Housing on the 23rd September, 2020, after a meritorious service spanning through 33yrs, 9months and 15days.
He served as Special Assistant [Technical] to seven different Permanent Secretaries while in the service of the Federal government of Nigeria. An experience that has buoyed his administrative ingenuity and leadership skills. A Registered Engineer with the Council for the Regulation of Engineering in Nigeria (COREN) as well as multiple Fellow of both the Nigerian Society of Engineers [FNSE] and Nigerian Institute of Safety Engineers [FNISafetyE], Root Oguntominiyi served in various capacities as Caretaker Committee member in Oriade Local Government of State of Osun. Well-traveled in Europe, United States and Asia, Root Oguntomiyi's excellence in service and significant contributions to his immediate society and Nigeria has earned him various recognitions and awards including Productivity Order of the State of Osun Merit Award by His Excellency, Adegboyega Oyetola, the Executive Governor of the State of Osun; African Leadership Award for Engineering Excellence from Institute for African Studies, University of Nigeria, Nsukka and Arewa Students and Youths Council of Nigeria (Sarduana Legacy). Root Oguntominiyi has also received Kwame Nkrumah Servant Leadership Award of Guidance; The Face of Nollywood Awards for Outstanding Personality of the Year; National House of Dream Parliament (NHODP) Award of Excellence Recognition; and Men's Fellowship Merit Award from St. Paul's Anglican Church, Diocese of Kubwa, Abuja. For an outstanding performance when serving as a technical sub-committee member on permanent solution to the bar beach shoreline erosion problem, he was given a COMMENDATION by Sen. Adeseye Ogunlewe, the then Honourable Minister of Works.
In more ways than one, Root Oguntominiyi's investiture as the President of the Roots Club of Ijesaland is a beautiful development. The mere fact that this has sparked a lot of excitement is an attestation to what he brings to the table. Nothing satiates like being recognized for one's efforts by one's contemporaries, friends, colleagues, and acquaintances. As Root Oluyemi Oladimeji Oguntominiyi steps in as the President of our great Club, welcome to a new era of hope and fulfilment of greater achievements. Congratulations! © Rèmí Oyèyemí Omo Ekùn