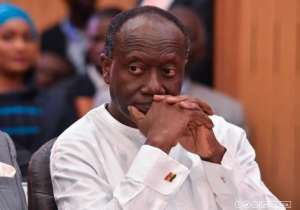 Ghana's economic fortunes could have been better if His Excellency the President of Ghana had appointed economists to the Finance Ministry. None of the four ministers appointed by the president is an economist. Investment bankers have high appetite for borrowing and mortgaging future revenue.
This information was gleaned from the Ministry of Finance and Economic Planning website (www.mofep.gov.gh)
Hon Ken Ofori-Atta assumed office as Ghana's Finance Minister on January 27, 2017. He brings to the Ministry over 30 years' experience as an investment banker and international financial sector.
He was a Co-Founder and former Chairman of the Databank Group (an investment banking firm) in Ghana. He was the Executive Chairman from 1990 until his retirement on February 14, 2012.
Reference: https://mofep.gov.gh/team/ministers/ken-ofori-atta
Hon Charles Adu Boahen has over 19 years' experience in Finance, specifically in Corporate Finance, Investment Banking, Asset Management, Private Equity and Real Estate. Prior to his appointment as a Deputy Minister for Finance, Charles was the CEO of Black Star Advisors (BSA), a boutique investment bank and asset management firm, and Primrose Properties Ghana (PPG), a real estate development company, both of which he founded in 2007.
Reference: https://mofep.gov.gh/index.php/team/ministers/charles-adu-boahen
Hon. Mrs. Abena Osei-Asare, is a Banker and Chartered Accountant. She has served as a Member of Parliament (MP) since January 7, 2013 representing the people of Atiwa East in the Eastern Region.
Prior to entering Parliament, Hon Abena Osei–Asare worked as the Assistant Director for the New York University in Ghana between the period of (2004 and 2007) and also as Customer Team Leader (2007-2009) and as a Sales Dealer in the Treasury Department (2009–12) both at Barclays Bank Ghana Limited.
Reference: https://mofep.gov.gh/index.php/team/ministers/abena-osei-asare
Hon. Dr. John Ampontuah Kumah, the current Member of Parliament for Ejisu, in the Ashanti Region, is a Lawyer and an Entrepreneur with over fifteen (15) years' experience in leadership, creativity, innovation and resourcefulness in creating jobs, and supporting youth development.
His rich educational background includes a Post Graduate Diploma in Applied Business Research in 2019 at Nobel International Business School (NIBS). In 2009, he had an Executive Masters degree in Business Administration (Finance), from the Ghana Institute of Management and Public Administration (GIMPA).
It all began at the University of Ghana, where he earned a Bachelor of Arts degree in Economics with Philosophy, a Bachelor of Art Degree (Law) LLB in 2011 and a Professional Law Certificate from the Ghana School of Law in 2013. He was admitted to the Ghana Bar in 2013.
Reference: https://mofep.gov.gh/index.php/team/ministers/john-ampontuah-kumah
---
(Copied from mofep.gov.gh)