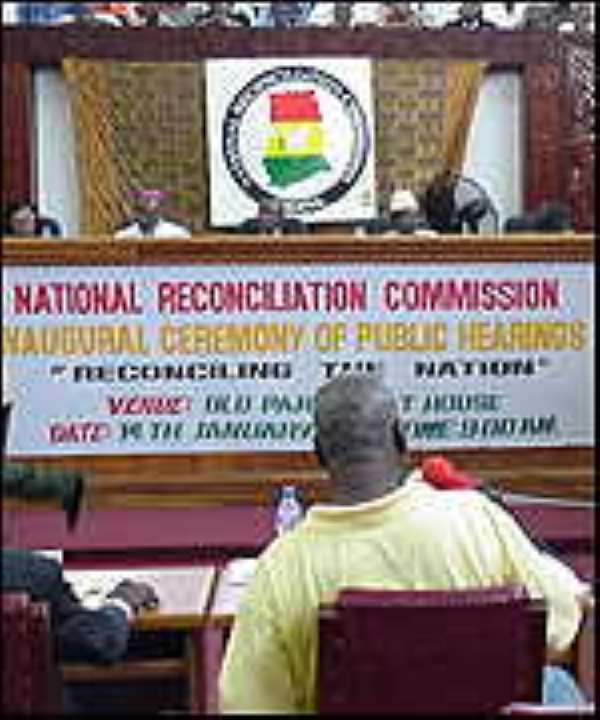 We Shall Never Forget In a radio broadcast on January 5, 1982, Mr. Rawlings presented a detailed statement on the factors that had necessitated the termination of the Third republic. He said he had no intention of imposing himself on Ghanaians he "wanted a chance for the people, farmers workers, soldiers the rich and the people to be involved in the decision making
It took many countless deaths, untold hardships, unnecessary executions, many tears and exactly 19 years to the day for Ghanaians to be free of the PNDC/NDC rule
In keeping with his commitment to populism as a political principle, Workers Defence Committees (WDCs). Citizens Vetting Committees (CVCs), Regional Defence Committees (RDCs), and National Defence Committees (NDCs) were all created that those at the bottom of society would have the opportunity to participate in the decision making process. In response to criticisms from a cross section of society that the WDCs and NDCs were interfering with management's ability to make the decisions needed for economic recovery it was announced on December 1, 1984 that PDCs, WDCs and NDCs have been dissolved. This was replaced with Committees for the Defence of the revolution. (CDRs). The dates are important as it must be imprinted in the minds of Ghanaians. We must never forget
HISTORY A BETTER JUDGE
. I do not intend to give any comments on the 19 years rule of Mr. Rawlings- just to say that Ghanaians knew the economic/social situation of the Ahowi's; Rawling's; Abodakapi's; Kofi Portuphy's;' Awonoor Williams's; Obed Asamoah's; , ET Mensah's; 'etc prior to January 1982. Conversely, Ghanaians knew the dire economic situation of the majority of people living in Nima, Maamobi, Kasoa and Ashiaman before 1982.
The present state of the offspring's of Papa Kofi (watchman at Nima); Madame Daavi (yorko gari seller at Ashiaman), Kofi Awulley (mason at Kasoa) and Yaa Serwah (Hairdresser at Maamobi) and the offsprings of the PNDC/NDC functionaries is miles apart. 19 years changed nothing for the residents of Nima & Kasoa, their roofs still leak, they cannot afford hospital bills; their children still go to SITO; a square meal is beyond their reach and they still cling on to the fatalistic jargon "God will provide". History will be a better judge of the PNDC/NDC era.
WE DESERVE BETTER
What the present generation of Ghanaians deserve and the legacy that we must leave for our children and grand children is NEVER AGAIN; NEV ER AGAIN MUST WE BE TAKEN FOR A RIDE. NEVER AGAIN MUST WE ALLOW THE MILITARY THE OPPORTUNITY TO HOLD OUR PEOPLE AND THE NATION TO RANSOM. NEVER AGAIN MUST A GHANAIAN WOMAN WET HERSELF IN FRONT OF A UNIFORMED SOLDIER.
As a nation, we must be resolute and be determined to keep, cherish and treasure our hard worn freedom of speech. What came over us? What happened to the Ghanaian psyche for a woman to wet herself at the sight of uniformed men –(Sgt Apoera et al)? How come as a people we witnessed and watched our mothers being stripped naked, humiliated and dehumanized? What came over us?
I was personally traumatized; ashamed, physically sick and actually depressed when I had to stand by helpless when my eldest brother (Nkusuohene of Nkawie) was mishandled at Gondar barracks- for simply asking about the whereabouts of my big brother Andrews (Joe) who had been arrested on the orders of Mr. Partington
NATIONAL RECONCILLIATION COMMISSION (NRC)
What is my point? What do I expect the NRC to come out with? How can the commission help us to reconcile, forget the past and move forward as a united nation? Some possible recommendations of the NRC could be: the compensation of victims and their families; erection of monuments in honor of others; education fund to pay for children of the deceased; de-confiscation of assets; and a national day of prayers and social security polices for others.
The NRC recommendations must include paragraphs that will ensure that Ghanaians who have been involved in atrocities against fellow defenseless and innocent citizens never have the chance to stand for high office.
As a nation we must be forgiven but not forgetting. Soldiers/Civilians who have committed senseless crimes against humanity must not be allowed to get away with it. We will ensure that they will never sleep soundly and that when the report comes out their immunity from prosecution will only be on the shores of Ghana. I have interviewed and met many countless militia people from Congo who have committed unspeakable crimes against women and children. They look a pitiable sight; they all ask for mercy and demand justice- justice that they never offered to their defenseless victims.
The only reason that a (Ghanaian) was offered and I accepted the voluntary post of Co- Chair of the Congolese Association in Bedfordshire was my determination to have a dialogue and understand the mind of the torturer and murderer in the African context (genocide in eastern Congo/Rwanda). What is happening in Bukava and eastern Congo is incomprehensible. Our association has instituted policies that ensure that anyone involved in the atrocities in eastern Congo and Rwanda will have to look straight in the eye of the thousands of women and children from Congo residing in the Bedfordshire area and in the UK.
THE FUTURE
What about the future? By all means Ghanaians must exercise their democratic mandate; they must vote for parties that will provide them with shelter, food, education and hope. . They must vote for parties that believe in fairness, free speech, and that creates opportunity for the majority not the few. They must vote for parties that will not turn hospitals into graveyards, schools into church buildings, roads into death traps and houses into water pumps. They must vote for parties that ahs a tradition fro free and fair speech
However, we want it to be t be known to all Africans wanting to commit atrocities against our mothers, aunties, cousins and brothers that we have come of age. In the fight against unpardonable crimes against people of Africa, the African Diaspora in the UK and US are united, there is no Nigerian, Ghanaian, Congolese, Liberian etc. We have the support of statutory agencies, voluntary groups and the society at large to fight this cancer of brutal senseless crimes against our people.
Our advice to those considering committing crimes against humanity our advice is stop However, if you wish to continue by all means commit your crimes, rape our mothers and sisters in Congo, Zimbabwe, and Sudan etc receive your immunity. Charles Taylor stay in Nigeria never step outside Nigeria for when you or any of your kind land in the UK our association with the support of many generous benefactors will take you on. By all means Ghana's parliament can offer immunity to Sergeant Charles Apoera of 2BN Takoradi and others like him but that immunity does not cut ice either with me or the many human rights groups in the UK.
The only way forward for these guys is: this is the global age "STOP COMMITTING ATROCITIES".In simple English, no African torturer or murderer has been offered any immunity by the courts in UK. The mandate of the NRC does not apply in the UK
Forewarned is Forearmed.
I am extremely proud to be given the opportunity and chance to be involved with the Congolese people to offer my solidarity, and weep with them .
We await the report of Ghana's National Reconciliation Commission.. Appiah Danquah Kufuor Co chair Bedfordshire Congolese Association. Views expressed by the author(s) do not necessarily reflect those of GhanaHomePage.