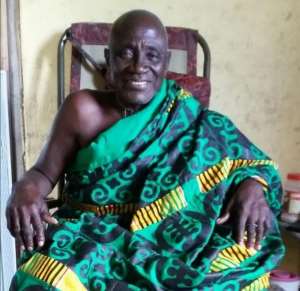 Torgbe Dedzi Ngorgbie Korto
Agoo, Agoo, Agoo may the heavens and the earth listen to my dirges, eulogies, posthumous and farewell messages to my biological father, the Great Torgbe Dedzi Ngorgbie Korto of Mepe Traditional Area. Torgbe has embarked on a never-to-return ancestral journey to the land full of herbs. He occupied the Dedzi Ngorgbie stool of Mepe Dzagbaku for 67 years. Torgbe Dedzi Ngorgbie Korto's appellation was Azi kpete mesa vͻ oo. Koklo le azidzi ko bokͻwo kanu tͻe.
This eternal journey of his is required of all living beings at an appointed time. William Shakespeare stated this in Act 1, Scene II, Line 73) of his play named Hamlet. The character called Gertrude in Hamlet said to her son, "Good Hamlet, … do not seek for your noble father in the dust; you should know this, all that lives must die, passing through nature, to eternity."
Indeed, as nature ordained, my father (Torgbe Dedzi Ngorgbie Korto) had passed through nature to eternity. It is thus apt to eulogize him even as I mourn his demise.
The late Torgbe Dedzi Ngorgbie Korto was a lovely father of 10 children (Adadzi, Nuwade, Mawusi, Nyatsiyͻme, Agblekpe, Nͻviwͻƒe, Afeti, Yao, Nyemesinyͻe'o and Amuzu).

He was a close friend to all his children. He was also a disciplinarian, a truthful man and a good counsel. He was a responsible father who would pay our school fees ahead of a term or a semester, denying us the opportunity of being sacked home from school with our mates who defaulted in the payment of school fees.
He was an industrious, caring and generous man. A gem by all standards. As a good counselor, one of Torgbe's wise sayings goes, "the seed capital used for starting a pig farm cannot be the same as the amount required to feed the pigs." He would re-echo this assertion in Eʋe saying, Eháƒleho kple ehá nyiho wo me sͻ' o
Torgbe Dedzi Ngorgbie Korto surrounded himself not only with his biological children but also cared for his nephews, nieces and grandchildren, giving them unique and affectionate names such as Dakaasa, Geogratey, Tabutabui, Adegedey, Tamalabͻŋͻ, Wonkokoe among others.
Torgbe Dedzi Ngorgbie Korto, your unexpected demise has vindicated Mamaga Adzo Sreku IV, Queen Mother of Mepe Traditional Area. She said to me advisedly, "Afeti, your father is a great and wise man worth writing a book about. You need to write a book that captures his entire life and good deeds." Perhaps I procrastinated a bit in heeding to Mamaga's advice to document your life. Even though I could not write such a book before you died, I am still grateful for the knowledge you imparted in various ways before your eternal departure from earth.
However, I have missed our teasing, jokes and loud laughter. I remember our common names such as Nye Ŋutsuͻ, Aƒetͻago meyi aʋlime'o, Gari medona dzatsi'o among others. It was pleasant being your son and I cherished with gratitude, the bond we shared. My friends, Obed Yao Ahorkonu of Mafi-Kumase and Wisdom Titrim of Mepe have also missed you and they continue to recount their fond memories of you.

Even as we prepare to give you befitting funeral and burial from Friday, April 22, 2022 to Monday April 25, 2022, under the auspices of the Mepe Traditional Council, I deem it a divinely assigned duty to eulogize you for your uniqueness, magnanimity and sound upbringing of your children.
Son of Ametsié Dotse Akpaxͻlu, Aƒenͻ Aƒiewosi Gati (a.k.a. Lisasi). Son of Torgbewo Adivi, Agba, Nyigbaleʋu and Aʋlavi of Mepe Gbanvie as well as Anaglate of Adzigo Samlaƒeme. Son of Torgbe Ko ʋuͻ , Torgbe Korto, Mama Ʋε, Mama Dzavi, Mama Agobo, Mama Aƒevienyeku, Mama Gagah, Mama Amεta, Nanε Atsuƒé and Mama Nuwade. Ametsie, hede nyuie, eye Mawu Sodza na tu tsi na wὸ luʋuͻ le ŋutifafame. Efͻ ne tse mi gbe du.
~ Asante Sana ~
Author: Philip Afeti Korto
Email: [email protected]