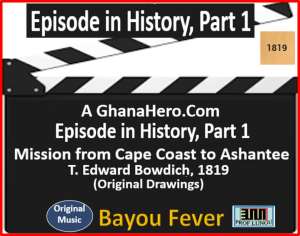 GhanaHero.com Episode in History (1) - Tag Image File - Mission from Cape Coast to Ashantee Picture1-Bowdich Drawings
THE GHANAHERO RUNDOWN: In 1817, a European trading company operating from Cape Coast in the Gold Coast (now Ghana), commissioned Englishman T. Edward Bowdich to go negotiate a peace treaty with the powerful Asante Kingdom.
Sponsored by a colonial official and no doubt at the expense of the People of the Gold Coast, in West Africa, Edward Bowdich arrived at Cape Coast in 1818 with his new wife, Sarah, who remained at Cape Coast.
The Asante King at that time was Kwamina Osei Bonsu.
After Bowdich returned from Coomassie (Kumasi), he published his report in a book (Mission from Cape Coast Castle to Ashantee. Europeans refused to believe the accounts by Bowdich, including accounts and images of highly evolved systems of political, economic, and social control, organization, commerce, architecture, etc.
As time passed, the British would break many treaties, and Asantes (Ashantis) would fight and defeat the British in several wars, until the final war in 1874 eventually resulted in the British formally occupying the Ashanti Kingdom, in 1900.
ABOUT THIS VIDEO: This premiere edition video, with Bayou Fever, an original Prof Lungu sound track, presents the images of the Asante Kingdom and Kumasi of the 1818s, as observed and drawn on canvas by T. Edward Bowdich, Esq.
MORE INFORMATION & RESOURCES: Researchers, students, and other serious readers will find copies of the book by Bowdich online for a fee. Now out of copyright, the copies, usually poorly formatted, tend to not have the original drawings.
Follow Prof Lungu on Twitter (https://twitter.com/professorlungu). Message Prof Lungu for more information about this and other videos and original documents about our series, "GhanaHero Episodes in History"; and other general Ghana-interest documents. We might be able to assist.
SUBJECT: GhanaHero Episode in History - Mission from Cape Coast Castle to Ashantee (The T. Edward Bowdich Images).
MUSIC: Bayou Fever, original music by Prof Lungu ©2020.
POWERED BY: www.GhanaHero.Com
PUBLISHED: 27 June, 2021.