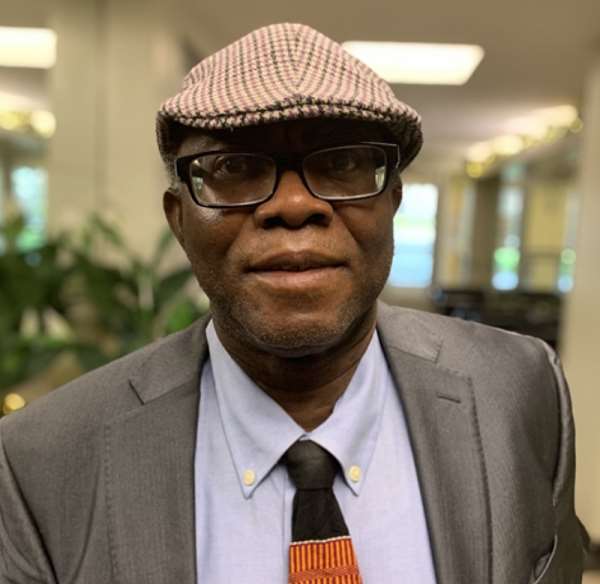 It was sometime in the early summer of 1983. I had come down with what initially appeared to be a severe case of malaria. My elder sister, Maame Adwoa Apeakoramaa, we simply call her Maame, would take me to the same 37th Military Hospital where Mr. Kennedy Ohene Agyapong, the Oman Communications Network proprietor and the ruling New Patriotic Party stalwart form Assin-Dompem, in the Central Region, reports that his ailment of common acute appendicitis could not be diagnosed by the Ghanaian-born doctors at the hospital that the British Colonial Government established in Ghana in the heat of what Mr. Stephen Bantu Biko, the globally renowned late South African Human Rights Advocate, Activist and Fighter, called the Second European Tribal War of the Twentieth Century. Today, the latter Western exhibition of wanton depravity and barbarism is widely known as the Second World War or World War II.
Well, back in 1983, too, the "Harvard Doctors" at the 37th Military Hospital could not diagnose what was wrong with yours truly. My eldest maternal aunt, Pastor Mary Awo Akosua Baaduaa Sintim-Aboagye, would take me to see the nationally renowned Russian-trained Neurosurgeon by the name of "Mr." Francis Mohamed Mustapha, the only practitioner of his specialty for some 20 years in the West-African Subregion. The Hausa and Northern Nigerian-descended Neurosurgeon, although a bona fide practitioner of Islam, had adopted the first Euro-Colonial first name of Ghana's first postcolonial President, namely, Mr. Kwame Nkrumah, that is, Mr. Francis Kofi-Nwia Kwame Nkrumah, because legend had it that it was Kwame Nkrumah who either personally awarded or facilitated the awarding of a scholarship to the then Mr. Mohamed Mustapha, a graduate of Fijai Secondary School, in the Western Region, to attend medical school in the Soviet Union, as today's Russian Federation was then known and called. Mr. Mustapha would study medicine in the Soviet capital of Moscow.
When I met Dr. Mustapha, in 1983, he preferred to be addressed as "Mr. Francis Mustapha" or "Mr. Mohamed Mustapha" – I suspect that his version of "Muhammad" or "Mohammed" was spelt with a single "M" in the middle of it. Fate might not have designed that we meet at the moment and time that we did, because some 13 years before we did meet, Prime Minister Kofi Abrefa Busia's Progress Party (PP) government had initiated the massive deportation of Nigerian nationals resident in Ghana, for stereotypical reasons having largely to do with a seismic uptick in such social vices as armed robbery, rape and murder. Which meant that the overwhelming majority of the kinsmen and clanswomen of Dr. Mustapha might have been forced to leave the country. Of course, there were critically significant exceptions made or allowed by the Busia government which the very narrow and specific purview of this column does not permit me to delve into.
Anyway, as soon as I arrived at his clinic, that is, the Surgical Ward of Ghana's oldest and foremost civilian hospital, the Korle-Bu Teaching Hospital (KBTH), Dr. Mustapha demanded to know which other clinics or hospitals I had been to prior to being brought in by my aunt, whom he affectionately called "Mary Sintim." "Kwame, you are very lucky to have come to me quite early because most of the staff cockily parading with the titles of 'Doctors' at 37 and some of the other hospitals and clinics around the country, have absolutely no proper understanding of the real and true nature of the medical trade." He would also let it on to me that my kind of ailment was one that was more "spiritual" in nature than physical, and that mine was the second case that he was handling in 17 years of his medical practice. Dr. Mustapha must have been in the medical practice for about twenty years when I first met him (See "How a Doctor at 37 Hospital Almost Killed Kennedy Agyapong" MyNewsGh.com / Ghanaweb.com 4/4/21).
For my part, I readily own that I sincerely don't think or suppose that any doctor or professionally trained physician anywhere in Ghana had desired or wanted to kill the rambunctious and sometimes even downright obnoxious Assin-Central Member of Parliament from the ruling New Patriotic Party (NPP). What very likely really happened here, and does routinely happen in Ghana, by the way, is the tragic fact that once most of our physicians graduate from any of our now handful of medical schools, they easily forget that in order to continue to be professionally competent and efficient at what they have been trained with humongous taxpayer capital investment to do or practice, they need to be constantly attending professional refresher workshops, courses and conferences run by the leading practitioners in their field or subfields, either in Ghana or, most preferably, take short courses abroad to upgrade and update their skills and knowledge bank or base, as well as keep abreast of the latest developments in their fields and subfields of practice.
This is where the entire problem of professional mediocrity comes from. You see, very likely, the Dr. Mensah who was finally able to correctly diagnose Mr. Agyapong's ailment right here in The Bronx, New York, here in the United States of America, where a good friend had advised him to promptly seek medical attention – by the way, I also personally know Dr. Samuel Mensah; his Okyeniba Clinic is less than a mile from my residence – was very likely also trained at the University of Ghana's Medical School. He also has a Harvard Medical School-trained daughter who is also in active medical practice in Harlem, New York, the last time that I checked. But, of course, it also bears observing that Dr. Mensah trained at the University of Ghana's Medical School, in the late 1960s and early 1970s, when the UGMS' staff of medical practitioners was heavily dominated by foreign-born physicians, largely Europeans and Asians, who seriously loved what they had opted for by way of a professional career, and not primarily because there were handsome and decent salaries to be made, as clearly seems to be the case today.
We shall pick up on the tragic Mustapha Story in due course. But I just wanted to add, in the meantime, that I would also shortly discover that "Mr." or "Mister" was the more appropriate title to use in addressing a surgeon, not "Dr" or "Doctor." That was the standard British tradition at the time. Here in the United States, where doctors, by and large, at least those of the run-of-the-mill kind, are so full of their own sense of self-importance, even dentists often demand to be officially addressed as "Doctors." But, of course, here in the United States, in recent years, the doctorate or doctoral degree has also been extended to the nursing profession. So, you also have "Doctors" who are actually "Senior" or "Advanced" nurse practitioners. That is the regal beauty of epistemic and technological advancement.
*Visit my blog at: KwameOkoampaAhoofeJr
By Kwame Okoampa-Ahoofe, Jr., PhD
English Department, SUNY-Nassau
Garden City, New York
April 4, 2021
E-mail: [email protected]