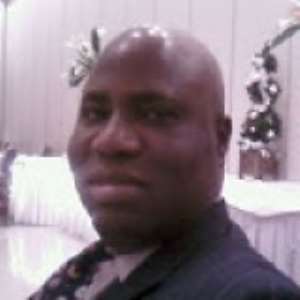 "Anyone who kidnaps someone is to be put to death, whether the victim has been sold or is still in the kidnapper's possession" (Exodus 21:16).
I was kidnapped, physically kidnapped from Cotonou the administrative capital city of Benin Republic by the goons of deceased Nigeria's military dictator; Gen. Sani Abacha on Friday February 14, 1997. The whole saga was masterminded by Mr. Matthew Sunday Adoli, then Nigerian Ambassador in the Republic of Benin. Though it was a harrowing experience, but the True Lord God Almighty used the nightmarish incident to pave way for my spiritual training. Examples of such spiritual turn-arounds in the Word of Life abound; 17-year-old Joseph was sold into slavery by his jealous brothers without knowing they sold him into his destiny (Gen. 37:12-36); Pharaoh pushed 40-year-old Moses int the Midian wilderness so he would be prepared by his Maker to deliver the Israelites from Egyptian thralldom ( Exodus 2:11-25); King Solomon murderously went after Jeroboam hounding him into exile with no clues that he -Solomon- was being used by the Lord God Almighty to push Jeroboam into his destiny in Egypt (I Kings 11:26-40) from where he returned to become king and many more. Even our Lord, Master and Savior Jesus Christ was hounded into exile so that He would fulfill His Messianic Mission on earth: the liberation of the human race through His Sacrificial Death on Calvary and His resurrection from the dead when He conquered Satan and Death forever, Hallelujah! (Matthew 2:13-23).
Life is a journey, and there are bound to be numerous twists and turns in the journey of life. In this once-in-a-lifetime journey which offers us no re-dos; the Almighty God allows each and everyone of us to pass through many vicissitudes to make or mar us. As He allows us to use our individual freewill to choose our reactions to the good, the bad and the ugly that life throws at us; He as the Sovereign Lord God Almighty knows what each of us needs to complete our life's journeys. For Papa Abraham; it was relocation from his ancestral home to another land where he became a refugee (Gen. 12:1-4); for Jacob, it was servanthood in Padam Haram; to Joseph it was betrayal and prison and then from prison to palace. For Moses, it was from being the prince of Egypt to being a Bedouin in wasteland and then back to glory. For Apostle Paul, it was losing all for His Glory only to gain all for His Utmost as he disclosed: "…What is more, I consider everything a loss because of the surpassing worth of knowing Christ Jesus my Lord, for whose sake I have lost all things. I consider them garbage, that I may gain Christ…" (Philippians 3:8). If you have not lost anything you consider great and worthy in this temporary life; freedom, money, wealth, inconvenience, loved one(s), family ostracism, temporary power, reputation, etc for following our Lord Jesus Christ and the surpassing glory of the New Life, you will need to re-examine your Christian Life Journey. When Adoli and his fellow kidnappers went after me in order to impress their paymasters in Abuja and ensured Sani Abacha stay put in power; they didn't know they were being used by the Almighty God to pave the way to my spiritual calling and what is being achieved today here in America and around the world. Would Joseph's brothers have sold him into slavery, if they knew they would later bow down to him as king? Would Satan have known that entering into Judas Iscariot to betray our Lord, Master and Savior Jesus Christ lead to the downfall and evisceration of his kingdom of darkness? As Apostle Paul aptly pointed out, "…None of the rulers of this age understood it, for if they had, they would not have crucified the Lord of glory" (I Corinthians 2:8).
As the Almighty God of the heavens and Sovereign Lord of the universe set up the system; each time He wants to bring up closer to our destiny, He arranges the adversary to move first with all kinds of hurdles and inconveniences. Because He-the Lord God Almighty-created Satan; He and He Alone knows what is inside the devil. Satan cannot repent and be redeemed; he and his rebellious spirits and fallen angels are lost forever. But for the human race; God's continued love for and toward us cannot abate so He moves the darkened and malevolent spirit of Satan to withstand and harangue us thus giving the Almighty God the opportunity to display His Awesomeness and Might; Hallelujah! This is the more reason Apostle Paul exhorted us believers to; "Rejoice in the Lord always, I will say it again, Rejoice!" (Philippians 4:4). When the last chapter of a book is yet to be written, when the last act and final scene of life's play are yet to be staged and the final curtain is yet to be drawn, Life's Journey is still on and as our Lord Jesus Christ commanded us; Only those who endure till the end are those that shall be saved. King Saul started the journey of his life on a promising note even casting his lot with the Lord God Almighty to fight witches, wizards, sorcerers/sorceresses, demons and other enemies of his Maker, but later joined the enemies and went into hell fire unmissed and unmourn (I Samuel 31). Solomon didn't make it to heaven with all his earthly wisdom and wealth, though he started well, but ended up badly and missed the crown of life (I Kings 11:1-13). Judas Iscariot dipped hands in the same plate and ate with the Creator in human flesh; our Lord, Master and Savior Jesus Christ during His 33 years earthly sojourn and Judas still ended on the Other Side of the Eternal Divide. Difficulties and painful moments of life are program by the Lord God Almighty for us to look up to Him and not look down away from Him. He programs certain unbearable moments in our individual life in the Journey of Life so He can display His Powers over other powers so you can know and be convinced there is no power like Him and He is the Only One worthy of our worship and praise. That is why Apostle Paul declared in Romans 8:26: "And we know that in all things God works for the good of those who love Him, who have been called according to His purpose."
I do not know where you're reading this right now in your corner of the globe, but as I am putting this down, we have left home and are currently sheltered at Holiday Inn in Temple near Austin, Texas because of "the unprecedented winter weather (that) has hit Texas" according to our electricity provider. We didn't plan for this. For the past six years we moved from Chicago to Texas, we haven't experienced this inclement weather before. But at the hotel, things aren't comfortable either. The Internet is erratic, custodial and janitorial workers have been furloughed for two days and the restaurant was closed. We could afford to relocate to a 5-star hotel because of bad winter, but what of those who couldn't? We managed to drive around town few hours ago, but it was like a ghost city. The ambience was apocalyptic as my friend described it; half of downtown was in darkness, restaurants, shopping malls, grocery shops, drive-through eateries and all of life's activities seemed lull to a standstill. All those things we took for granted changed in few twilights and life was out of whack. You wonder why all of a sudden? Amid the Pandemic and now the weather catastrophe in it all and the Holy Spirit whispered to me; Didn't I telegraph these to you at the beginning of this year? Ten I remember our prophecies at the beginning of this year. While your own unbearable woe and zero-lagom life may not be as dramatic as being kidnapped like I was almost 25 years ago, but know this that the entire human race is under the sway of the Chief Kidnapper known as Satan. While the weather condition in your neck of the woods may not be as unfriendly and giddy as ours here in Texas, life's reverses are inevitable in the Journey of Life.
Satan kidnapped the entire human race in the Garden of Eden through our First Parents; Adam and Eve. You who are blaming the True Lord God Almighty for life's setbacks should know that my Lord, Master and Savior Jesus Christ didn't give the power over this earth to Satan and his fallen demons. Satan disclosed this when he came to tempt the Savior: "The devil led Him up to a high place and showed Him in an instant all the kingdoms of the world. I will give You authority over all these kingdoms and all their glory; he said. "For I has been relinquished (handed over) to me, and I can give it to anyone I wish. So, if You worship me, it will all be Yours" (Luke 4:5-7). The Creator-in-human -flesh laughed as one of His rebellious created beings offered Him what His Hands had created. The Lord Jesus Christ Who owns all told Satan Only God Almighty is to be worshipped. Today, Satan is offering many souls the same lies and deceptions and many are falling for Satan's dido. Like all kidnappers, the Lord God Almighty has decreed death penalty for kidnapping as He said: "Anyone who kidnaps someone is to be put to death, whether the victim has been sold or is still in the kidnapper's possession" (Exodus 21:16). By this God's Judgment, Ambassador Matthew Sunday Adoli and his co-kidnappers that forcefully kidnapped me from Cotonou, Benin Republic on February 14, 1997 must be put to death, whether they carry out their heinous crime on behalf of Abacha or not. If they are not judged now, they shall be judged one day before the Great Judge: our Lord Jesus Christ!
Just as all kidnappers in Nigeria and elsewhere traditionally demand for ransom on their victims, Satan too also demanded ransom from the Lord God Almighty on his victims which are you and I; the entire human race. Satan is not interested in money; he is interested in blood, because blood is life. He asked that the Sovereign Lord of the heavens and the universe must offer him blood before he could release his captive. The ransom was paid by my Lord, Master and Savior Jesus Christ, Hallelujah! He made this plain Himself: "…whoever wants to be first among you must be your slave-just as the Son of Man did not come to be served, but to serve, and to give His life as a ransom for many…" (Matthew 20:27-28). Apostle Paul elucidated further on the ransom paid by our Lord Jesus Christ on behalf of the entire human race to Satan, the Chief Kidnapper thus: "For there is one God, and there is one mediator between God and man, the man Christ Jesus, who gave Himself as a ransom for all people…" (I Timothy 2:6).
If you're reading this and hasn't hitched your wagon to the Lord Jesus Christ in the Journey of Life, you're still a victim of Satan, the Chief Kidnapper of the human race. Jesus Christ paid the ransom demanded by Satan two thousand years ago with His Precious Blood on Calvary thus setting us free once and for all. This ransom is what delivers us from the den of Satan, the Chief Kidnapper. Are you free in the Precious Blood of the Lamb? Do you want to be totally free from Satan and his demons? Pray this prayer now and reach out to us thereafter: "Jesus Christ of Nazareth, I come humbly before You now to confess my sins and disobedience toward You. Yes, I am a sinner. I have been living my life to please me and haven't obeyed Your laws. If You were to judge me now, I will be in hell. But Jesus Christ, I don't want to go to hell. I want to be with You, because You created me because You love me. I love You and that is why I am coming to You now to confess all my sins, rebellion and disobedience toward You. Forgive me of my sins, O Lord. I believe in my heart that You came to this world two thousand years ago, lived a sinless life and then died on the Cross to pay for my sins and ransom demanded by Satan who kidnapped me, because of the disobedience of my First Parents; Adam and Eve in the Garden of Eden. Your Death on the Cross was on my behalf as a sacrifice for my sins, rebellion and disobedience toward You. Then on the third day, according to Romans 10:9-10; You Jesus Christ came back to life after You defeated Satan in the nether gloom. I accept You from today and throughout my life as my Lord, Master and Savior Jesus Christ. I will worship You, obey and do Your will. I will live my life for You and do whatever You command me to do. Use me for Your Glory, enable me to live the life that is pleasing to You. Let me not miss my destiny. Let me be what You created me to be and after I have fulfilled Your plan for my life on this earth, I will return to You and reign with You in Your Kingdom forever and ever, Amen." Call us now at this number; 254-563-3856 also on WhatsApp or send me an email: [email protected] and lets take it further in your new life's commitment.
Dr Moshood Ademola Fayemiwo is the Spiritual Head & Founder, The Jesus Christ Solution Center, based in Cameron, TX USA. Call him at this number: 254-605-4035. You can send him email at [email protected] . You can also visit our websites at: - https://tocu.education/ and https://tocu.online/