Nkrumah Mausoleum Is a Japanese Idea – Part 2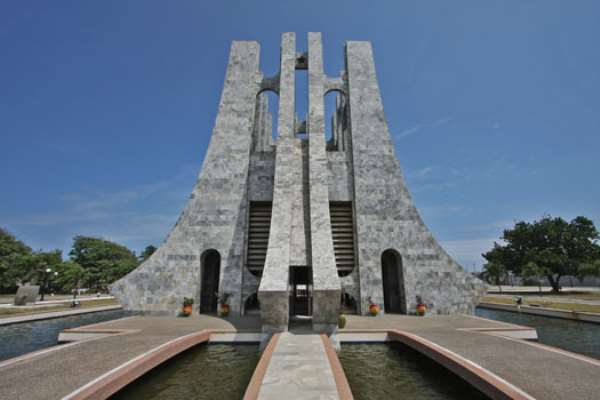 You see, I fully appreciate the tourist attraction aspect of the creation of special graveyards or cemeteries for our deceased or late Presidents, but it should not be Dead Presidents alone, but a Pantheon of all our illustrious leaders, statesmen and women, accomplished and distinguished professionals and citizens, like the legendary and immortalized Dr. Ephraim Amu and Dr. JB Danquah, as well as Ephraim Casely-Hayford, Kobina Sekyi and Rev. Attoh-Ahuma and Mr. George Ekem Ferguson (aka Uncle Ekow Atta), Gold Coasters and Ghanaians who never became Presidents but distinguished themselves well enough and in some cases made the Presidency, as we presently know it, possible for those who came onto the national scene decades and generations later.
At any rate, on some level, I find this pathological obsession with the conversion of the resting places of our most distinguished leaders into venues of tourist attraction to be a little vulgar and one that unsavorily verges on the downright obscene. Then also, who said that the simple graves or tombs of the legendary likes of Messrs. Kofi Annan, Kwabena Nketia, Atukwei Okai and, very shortly, Jeremiah John Rawlings, at the Burma Camp or Teshie-Nungua Military Cemetery, could not be made a lucrative tourist destination? For the most part, the most constructive and progressive approach to epistemically and rationally spreading whatever wealth could be significantly generated from making tourist attractions out of the burial places of our leaders would be to have these deceased leaders buried in their hometowns and villages and canonizing the towns and villages that produced these illustrious and/or great men and women into decent places worthy of pilgrimages and tourist attractions.
There is absolutely no need to have the mortal remains of all our legends and/or heroes and sheroes jampacked into one space merely for the convenience of tourists and academic, social and political devotees. Capt. Effah-Dartey may very well have forgotten this, but towards the end of his junta rule, the late Gen. IK Acheampong was in the process of creating a Museum or Pantheon of National Heroes or Hall of Fame on the very site where the Kwame Nkrumah Mausoleum presently stands or somewhere in the same vicinity. "It Is Yet Morning on Creation Day," as Prof. Chinua Achebe, the legendary and immortalized Nigerian educator, thinker, essayist and short-story writer and novelist titled one of his several anthologies of essays. What this simply means is that it is never too late for a statuary or even a Wax Museum of Ghanaian Heroes and Sheroes to be created both the national and regional and even the local levels.
On the latter score, it goes without saying that as a nation, we are endowed with a rich history of national and local heroes and sheroes and even in some cases, global legends who deserve to be celebrated each and every day, in much the same way that the various religious communities celebrate and commemorate the heroes, sheroes and legends of their faiths. It is also not very accurate that retired or non-actively-engaged-military veterans cannot be buried in military cemeteries, irrespective of what Ghana's 1992 Republican Constitution may have to say on this very subject. Any military veteran, especially a veteran of the Ghana Armed Forces who was honorably discharged and distinguished himself or herself while in active service is entitled to be buried in a military cemetery, if they so wish, such as was afforded my late World War II veteran maternal uncle and a pioneer of the colonial and postcolonial Ghanaian military establishment.
I have the gut feeling that Capt. Effah-Dartey's impugnation of the right of the late Flt-Lt. Jeremiah John Rawlings to be buried at the Burma Camp Military Cemetery may very well be laced with subtly controlled and nuanced ill-will and downright spite and contempt, being that the critic was once imprisoned by the recently deceased "revolutionary" leader for his alleged participation in an abortive coup d'état. But guess what? As a former Commander-in-Chief of the Ghana Armed Forces (GAF), to be certain, the longest-serving Commander-in-Chief of the Ghana Armed Forces, Chairman Jeremiah "Jerry" John Rawlings is more than qualified to have his mortal remains interred at any military cemetery in the country. There is absolutely no problem here whatsoever, contrary to what Capt. Effah-Dartey would have his readers and the general Ghanaian public believe.
Chairman Rawlings may have criminally violated the ethics of his profession by mutinying and upending the disciplinary architecture of the country's military establishment but, of course, this was also primarily because by the eve of the Rawlings-led or instigated mutiny, the institutional establishment of the Ghana Armed forces had already lost much of its professional credibility, integrity and respectability with the Ghanaian people. To be certain, it was the abject failure of the country's military intelligence to promptly and preemptively "take care" of the increasingly narcissistic and megalomaniacal 33-year-old prematurely but appropriately retired Ghana Airforce flight-lieutenant that culminated in the economic apocalypse that followed in the wake of the overthrow of the Hilla "Babini" Limann-led democratically elected government of the People's National Party (PNP).
And, by the way, the desperate decision to bury President Mills at Geese Park was primarily because the deceased President had not done much that was worthy of tourist attraction in his ancestral Ekumfi village in his native Central Region to warrant the observance of a state burial there. In short, the creation of the Geese Park Mausoleum was a desperate spur-of-the-moment decision. The arrogant and entitlement-drunk leaders of the National Democratic Congress had initially wanted to bury their "votive political mascot" on the compound of Jubilee House or Ghana's Presidential Palace, but for the critical and timely intervention of the extant United States' Ambassador, a catastrophic civil strife may very well have erupted in the country. That is the sort of morally depraved and benighted leadership that we have in the Mahama Posse.
*Visit my blog at: KwameOkoampaAhoofeJr
By Kwame Okoampa-Ahoofe, Jr., PhD
English Department, SUNY-Nassau
Garden City, New York
January 19, 2021
E-mail: [email protected]