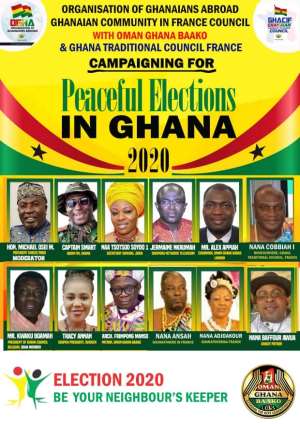 The Organisation of Ghanaians Abroad, Oman Ghana Baako and the Ghanaian Community in France Council Campaign for Peaceful Elections 2020 in Ghana.
On the 7th December 2020, Ghanaians will go to polls to elect a President of the Republic and Parliamentarians for various constituencies.
Such a period can bring about tensions which can lead to an uncontrollable interruption of our national peace which marches our freedom.
In a broad-based Peaceful Elections Campaign, the President of the Organisation of Ghanaians Abroad(OGHA) and GHACIF, Ghanaian Community in France Council Hon. Osei Mensah Michael has reiterated a message of peace.
He said Ghanaians abroad have an equal stake in the welfare of Ghana as our compatriots back home. A fall of Ghana will be our collective failure. Therefore, in times like this, we need to participate in the creation of awareness for prevention.
The country Ghana is the root all Ghanaians have in common. Collectively, we need to protect it by allowing its interest to supersede all our partisan interests.
Ghana must stand tall at all times. Politics is at its peak today in our country. It is imperative upon us to remind ourselves that, opening this period to politics should simply tantamount to the exposition of ideas, issues, and clues to national bottlenecks.
The electoral franchise is an exercise for Ghanaians irrespective of tribalism or political affiliation. It is therefore not meant to divide us. It is an exercise meant to unite our power and the possibility to eliminate misery and the ills of our country.
Voting for people in power simply confirms one's desire to see continuity. It is a noble right. On the other hand, the same franchise offers the possibility to change people in power. It is also a noble right. Note that nobody has more than one vote.
Electoral Campaign must be seen as a period of debate and education.
Be your Neighbour's Keeper for mutual peace. Together, we must rule out mayhem.
We must Elect in Peace, we must Live in Peace after the elections. Forever Ghana must progress.
Our national anthem keeps uniting Ghanaians since 6th March 1957. Mr. Phillip Comi Gbeho of blessed memory, in his God's given wisdom, composed it in a form of prayer. Consider the words of the anthem and you will understand why Ghana lives in distinction under God's favour.
Ghana has earned the reference in terms of democracy in Africa. That is why many non-African Presidents single it out as the destination for their first visit to the African continent.
The world is watching us. We represent inspiration to many. We shouldn't take these credentials for granted. We need to work collectively on it without cease.
We have advanced in the practice of good co-existence. That is all that life is about. Even political opponents must be respected because we need them to exist. We shine brighter across the lights of our differences.
Fellow Ghanaians, there is no Party A Ghana or Party B Ghana. The issue of our forthcoming elections will only single out a Ghanaian as our President. Each of our numerous constituencies will also select a Ghanaian to represent it in Parliament.
It sounds simple but to maintain this integrity, we shall have to recall the self-control we as Ghanaians have always had.
On behalf of GHACIF and OGHA, he thanked all distinguished personalities both home and abroad who have thrown their weight behind the Peace Campaign. He urged each and every Ghanaian to be their Neighbour and Compatriot's Keeper.