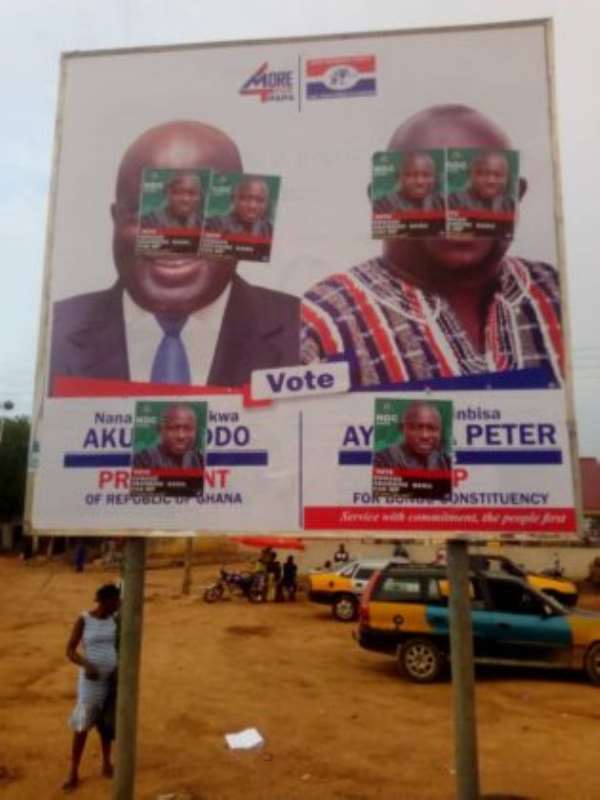 Paramount Chief of the Bongo Traditional Area in the Upper East Region, Bonaba Baba Salifu Atamale Lemyaarum has called for a ceasefire by members and leadership of the New Patriotic Party (NPP) and National Democratic Congress (NDC) in the Bongo Constituency.
Members of the two parties in recent time have been at each other's throat over allegations that the Parliamentary Candidates are pulling strings and taking actions in the communities where they hail from, to the detriment of their opponent.
For now, it is a straight fight between the supporters of the New Patriotic Party's Parliamentary Candidate, Peter Ayinbisa (District Chief Executive) and supporters of the National Democratic Congress' Parliamentary Candidate, Edward Bawa (Member of Parliament for Bongo), as the two are seen openly pulling off posters of their opponent.
Bongo has not seen this undemocratic practice being perpetrated in broad daylight in recent times and this can largely been attributed to the fierce contest and aggressive campaigns by the two major political parties.
Bongo has been a safe seat for the National Democratic Congress since 1992 and over these years, the party has not been faced with a heavy weight opponent that has threatened to take away the seat as being done by Peter Ayinbisa of the NPP. On the other hand, the New Patriotic Party has not had a candidate that has decided to go all out to unseat the NDC in the parliamentary election, hence the decision by the party's members and supporters to push harder to win for the first time, thereby resulting in the tension.
The two parties have been fighting over a billboard space which resulted in some members of the National Democratic Congress peeling off a poster having the images of President Nana Akufo Addo and NPP Parliamentary Candidate Peter Ayinbisa.
Meanwhile the aggrieved NDC members, on the other hand, says the billboard had Edward Bawa's picture on it before the NPP members came to paste the parliamentary candidate's picture, hence their decision to peel poster off.
A social media video that went viral over the weekend depicted the situation.
The Bongo Naba, Baba Salifu Lemyaarum over the weekend met the leadership of the two parties and directed that none should use the said billboard located at the lorry park, since they both don't own it.
He has called for peaceful campaign in the traditional area, saying. the year has been good and the area has been peaceful and wouldn't want the last days to bring fight and violence to the area as a result of political party campaigns.
Aside the Peter Ayinbisa (New Patriotic Party) and Edward Bawa(National Democratic Congress), the Progressive People's Party's George Afari has expressed interest in contesting for the parliamentary seat.
---Daily Guide