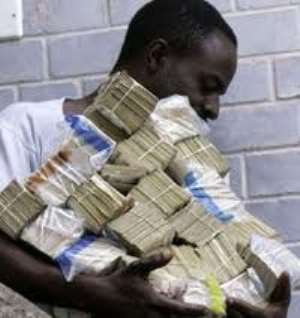 When I was a child growing up in Ghana, there was an exciting league table that formed the main topic of early Tuesday morning conversations in bars, offices, at newspaper stands, school parade grounds and hospital outpatient waiting areas, among many other areas wherever men and boys generally congregated.
It was the national football league table – Kumasi Asante Kotoko, Accra Hearts of Oak, Accra Great Olympics, Sekondi Eleven Wise, Ebusua Dwarves - which one was at the top of the table or which one was going to be knocked off the top after the following Sunday.
It was an amateur football league, but the teams and their players gave their all to their supporters in fair and very competitive matches, many of which were a delight to watch, even on black and white television sets, in those days.
Over the past twenty-seven years of the Fourth Republic, were it not so tragic, the most exciting league table in Ghana has been one of plain thievery perpetuated on the people of Ghana by the country's two main political parties ironically named the National Democratic Congress and the New Patriotic Party, as revealed annually by the Auditor-General.
Every year, depending on which of the duopoly is in power, it uses its majority in Parliament to scupper any attempt at discussing, let alone bringing the culprits of this disgraceful behaviour to book. What is democratic about that; and what is patriotic about this frenzy of create, loot and share among friends and family? The latest craze is the creation of dubious shell companies, often with non-existent addresses in foreign countries, to sell Ghana to their friends, relations and foreign accomplices. These parties have engaged in this disgusting practice with very little concern for the people of Ghana. Every four years, they come round with sugar-coated promises about the "New Canaan", and being the credulous people that we are, we buy into their nonsensical promises, especially as they give us the crumbs from under their tables, with their distended, worm-infested tummies.
And why should they care? With their loot, they are able to afford medical care in South Africa and Europe. Their wives can go to America to have their babies so they can be given American passports. In power, they budget for their families and friends to access superior medical care in Europe, North America and elsewhere. Why should they care a hoot whether your newly delivered wife and her new baby sleep on the bare floor or not.
In all this, the ones most to be pitied are the youth of Ghana who are used as cannon fodder by the two parties. They are used as serial callers to insult their betters and make enemies of their own friends' parents and other relations. During the election season, they are fed with food, drink and other things, to go and bash each other's heads, while the children of these callous men and women are safely tucked away in Europe and elsewhere, receiving superior education, so they can come back and lord it over their "grassroots" more like "famfool" supporters, like their parents have been doing. Some have returned and are doing that already
Even the Ghana Education Trust Fund that was established to cater for brilliant but needy children of Ghana has not been spared the orgy of looting. What little cannot be diverted into other things, is given to their middle age ministers and other appointees to go back to school, usually outside Ghana, to learn to write their names!
For as long as those parties know that they can take the people of Ghana for free and rough rides, our dear motherland is not going anywhere. Just look at how very few of the promised two hundred community secondary schools have been built in seven years. Instead, the money has been sunk into grandiose overhead highways and intersections because those bring in much larger kickbacks in brown envelopes. To try and save face, they have pushed 65-70 pupils in classrooms that were designed to take 35 young people, with one teacher.
If you are a young man aged between 16 and 21 receiving that mediocre education in Ghana, do a bit of research to find out how many of the two presidential candidates of the two parties and their running mates have their children/grandchildren attending schools in Ghana? They are all overseas attending schools that others have used their resources judiciously to establish.
If you are an unemployed graduate, ask yourself how many of their children and relations attend your "Unemployed Graduates Association" meetings. If you have recently completed National Service, ask yourself how many of your colleagues with "connections" in high places are still looking for jobs?
Ask your grandparents and older uncles and aunties, they did not have to pay bribes in cash or in kind, to secure jobs after university. Some of them were actually recruited before they completed their final university examinations because the system then was run by honest and selfless patriotic men and women. It was based on merit. Not surprisingly, today, ministers and even presidents read speeches that are full of plagiarised paragraphs, typographical and grammatical errors, because meritocracy has fled Ghana, replaced by family connections and party loyalty.
This is why both NPP and NDC should be shown the RED CARD in Election 2020. None of them deserves the votes of the people of Ghana in 2020. We need to take steps, as a nation, to stop this crude and nauseating bleeding of our Motherland. We must tell them in no uncertain terms that enough is enough! The youth of Ghana and generations unborn deserve better than this mediocrity of plain stealing.
Some people seem to think that the two parties are so entrenched and "loaded" that no third party can knock them off the pedestal. It has been done before in other places. We can do it too. The only reason we have not done it in twenty-seven years is because we have not tried it. There is a fresh and exciting young man out there, a very ordinary Ghanaian with loads of international experience looking to upset the applecart. He needs the support of the youth of Ghana. If you are thirty years or younger, remember you do not have another twenty-seven years to play with. Ask your grandparents and uncles, many of those who do not have children and relations outside Ghana have retired after more than thirty years' service to the motherland and are living their twilight years in poverty. It WILL happen to you unless you help to change the system and derail this cancer of CREATE, LOOT AND SHARE.
Mother Ghana needs you, spread the word on social media, in the churches and mosques, the markets and streets, "A change is gonna come."
DEALS (NPP)
COST
PDS Scandal
$190 million
The Aker energy Oil Scandal
$11 Billion
The Oslo Embassy Scandal
$6.54 million
NHIS diversion into private company
Ghs17 million
Condom purchase scandal
Ghs3.9 million
Planting for food missing fertilisers
$12 million
Sole sourced blood distribution drones
$12.5 million
Ministry of Tourism capacity building
$14 million
Kelni GVG Contract
$89 million
Sole sourced street lighting contract
Ghs 100.2million
Government bonds issue scandal
$2.2 Billion
Five million litre contaminated fuel scandal
Ghs9 million
Purchase of fake chemicals to fight army worms
Ghs5.6 million
Ghana @60 parade scandal

---

DEALS (NDC)
COST
Ameri Power Deal
$510 million
SADA Deal
$100 million
GYEEDA Deal
$100 million
ISOFOTON Deal
$1.2 million
Kumasi Airport
$29 million
Taadi Railway
$1 Billion
Atuabo Gas Deal
$2 Billion
Sugar Factory
$35 million
Power Barges
$1.2 Billion
Bus Rebranding
$3.6 million
Rattary Park
$4.4 million
Adomi Bridge
Eu13 million
Legon Hospital Renovation
$215 million
Ridge Hospital Repair
$250 million
Kejetia Saga
$298 million
STX Korea Deal
$1.5 Billion
Woyome Deal
Ghs51 million
SUBAH Deal
Ghs74.5 million
Brazil World Cup Deal
$20 million
Circle Interchange
Eu 78 million
Kasoa Interchange
$174 million