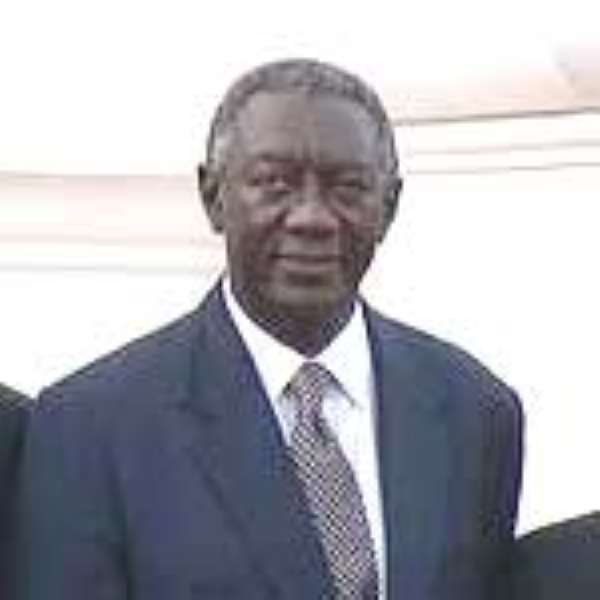 President John Agyekum Kufuor
President John Agyekum Kufuor today expressed absolute confidence in the Georgina Wood Committee set up to unravel the recent cocaine scandal that has hit the country.

Neither the President nor the Government would do anything to undermine the work of the Committee, Mr Andrew Awuni his Press Secretary, told a Castle Press briefing. "We are determined to get to the bottom of this matter and we know we will succeed," he said.
President Kufuor's assurance comes in the wake of the furore over remarks he made on the cocaine issue during the opening of the New Patriotic Party's (NPP) Greater Accra Regional Office last Saturday. "We have all had our say, and it is now time for all of us to back off and let the Committee do its work," Mr Awuni quoted the President as saying.
The drugs debate has become so intense and partisan that there was literally a face-off between the two major political parties, the NPP and the National Democratic Congress (NDC) on the matter yesterday.
Mr Awuni said President Kufuor had been following the public discourse on the matter, taking particular notice of the concerns of civil society and was grateful for the concerns. "It is clear to us that in spite of our differences as individuals or groups, we all cherish our country, Ghana, and would do everything to keep it intact and in one piece. "Ghana is larger than any person or group of persons and we should all, at all times subsume our interests under the interest of the country."
Mr Awuni declared that the Government would never shirk its responsibility to provide the leadership, willingness and resources to fight the drug canker, which senior security officers have said was a major problem threatening the society. "The Government has been very much concerned with the problem of drugs and has been working very hard to break this menace."
The Press Secretary said it was the view of the President that the narcotic drugs issue affected all without regard to political affiliation. He therefore called on all to work together to minimise or totally uproot it from the society. "Let us endeavour to expose the bad nuts amongst us, who for their selfish ends, do not care even if they destroy the people with their drugs," he added.
The Minister for the Interior on July 3 announced the setting up of the Justice Georgina Wood Committee to investigate the suspected loss of parcels of narcotic drugs from the ship and allegations levelled against some Police Officers with respect to the seizure of narcotic drugs at East Legon in Accra.