Hot FM Exposes Tactics National Security Used To Arrest NDC Pastor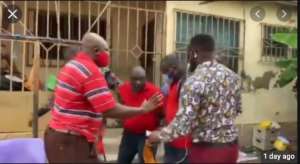 Security Analyst, Adam Bona has rejected public assertions that the arrest of 'Apostle Kwabena Agyei on Tuesday,9th June 2020 was a calculated effort between the media house that was granting the interview(Hot 93.9FM) and the National Security Officials.
Apostle Kwamena Agyei who had threatened to kill the chairperson of the Electoral Commission(EC) Jean Mensa was arrested by some officers of the National Security while granting a live interview with Boamah Darko on Hot 93.9FM at a hideout at Greda Estate in Accra.
In a Phone interaction on Hot 93.9FM's morning show; "Maakye"--hosted by Isaac Boamah Darko--the same journalist who was interviewing the controversial 'Man of God' prior to his arrest, the Security Analyst, Adam Bona justified that, the National Security has all the sophisticated equipment to enable them to trace persons who offend the law without seeking help from anyone.
According to him, the basic element that the National Security uses in their operations is the sim card in a mobile phone that is able to determine the location of Criminals.
"When I heard people saying Hot FM connived with the National Security, I said, it's not true..looking at the video, I will never say you as the media house, you were part of the plan to arrest the 'Man of God'.Unless people are underrating the security of this country..if they want to get you--they have all the equipment to execute such arrests ...the basic method they use is the sim card in a mobile phone that is able to determine the location of Criminals," Mr. Bona said.
Questioning whether it was lawful for the security officials to barge into the live program, Mr. Bona answered without mincing words that:
"Once a court warrant has been issued, whether you are on Social media, you're on a live page, etc, they must arrest you. If the Police or the National Security is unable to execute the arrest, they would have themselves to blame because they would be charged for contempt of court".