University Professor and Security Analyst Express Doubtful Views on the Arrest of Prophet Kwabena Owusu Agyei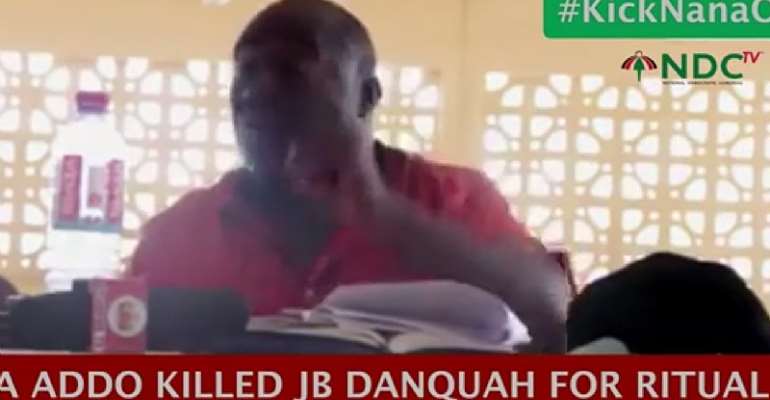 Fellow Ghanaians, please let us educate ourselves through the sharing of views and ideas on security matters in order not to belittle ourselves in the eyes of more knowledgeable persons.
On Tuesday, 9 June 2020, I could hear a University Professor (name forgotten) grant an interview to one of the radio stations in Ghana. I understand he is in charge of a Security Management and delivers lectures to University students and probably security companies in Ghana. He made a statement on the arrest and body search conducted on the notorious Prophet Kwabena Owusu Agyei who threatened (as captured on a recorded video) to kill Mrs Jean Mensah, the Chair of the Electoral Commission, if she proceeded to compile a new voter register for election 2020.
This professor accused the National Security agents who went to arrest Prophet Kwabena Owusu Agyei of a professional misconduct. He said, the National Security agents have absolutely no right to put their hands in the pockets and the waist wallet of Prophet Kwabena Owusu Agyei when searching him. He said it is illegal for a policeman or a National Security agent to conduct a body search on arrested suspect or offender by putting their hands in the pockets or any bag being carried by the arrested individual. He said, it is only the suspect or offender who has the sole right to put their hands in their pockets or bags to empty their contents.
I don't know if Ghana's security laws pertaining to conduction of body search on arrested suspects or offenders are unique to Ghana. Until I become conversant with Ghana laws in that respect, let me inform the professor, through the sharing of views that policemen and women, thus police personnel, have the right to put their hands in the pockets and bags of arrested suspects or offenders during body search or the search of their homes. This is how it goes in the Western world as far as I have come to know.
The suspects can be asked to empty their pockets, their bags and strip themselves naked yet, the police have the right to put their hands in the suspect's or offender's pockets and bags to empty their contents for a search. It is lawful and a common practice in the Western world.
However, a corporate security officer/guard as in "watchman" in Ghana, has absolutely no right to put their hands in one's pockets, handbags or bags during a body search on such persons. They have to ask the person to be searched to empty their pockets and bags for the contents to be seen, although they have the right to do a pat-down search on the individual.
I hope the professor will upgrade his knowledge of how a body search is conducted in conformity with prevailing international standards unless his view is in conformity with Ghana laws where of course, he will be, or is, right.
There is another security analyst in Ghana by name Adam Bonaa. He has blamed the National Security agents who went to arrest Prophet Kwabena Owusu Agyei by asking them ten pertinent questions. Among the questions, he asks why the suspect was not searched at the scene of his arrest and could it not be possible that the suspected weed (wee) found on him was planted on him by the National Security agents? He goes on to ask why a video on his body search was divulged to the public knowing that one is innocent until proven guilty in a court of law? He further questions, how can the National Security agents tell that the herb(s) found on Prophet Kwabena Owusu Agyei is cannabis?
One thing I know is cannabis has got a specific smell and whoever has seen some before or seen people smoke it, can tell it from a distance. This is an indisputable fact. Therefore, National Security agents who have dealt or deal with criminals of all sorts may have already come across the substance called cannabis hence can tell or identify it when they see or smell one.
For the information of the security analyst, why is he anticipating that the alleged cannabis could have been planted on Prophet Kwabena Owusu Agyei while at the same time condemning the security agents of unlawful act by making the body search public? Why did he not wait for the prophet to be taken to court to claim that the suspected cannabis is not his but planted on him before making that public assertion? Is he not trying to indirectly advise the prophet to claim that the cannabis was not his? How crafty the security analyst is!
Is it obligatory for them to search him and the place of his arrest? Had they gone to arrest him for threatening to stockpile weapons or offensive materials by which he was going to kill Mrs Jean Mensah or they had gone to arrest him for bad-mouthing that he was going to kill her and the "Akyem mafia" should she proceed to compile the new credible voter register for election 2020?
His place of arrest is in the meantime not a crime scene. Therefore, there was no need to search the place there and then but now that illegal substance has been found on him and he is under arrest, the National Security operatives can return to the place to conduct a thorough search. He is now a criminal and a potential murderer.
Could Adam Bonaa please tell Ghanaians when and where the National Security agents declared the prophet guilty to warrant his pronouncement that one is innocent until proven guilty by a competent court of jurisdiction?
Anyway, do security analysts only come out when the one threatening the nation is arrested? Do they not have to come out to tell the nation about the consequences of such threats and how best to avert them, or to warn those people threatening the nation to stop before they get arrested because their actions are inimical to the safety and security of the nation and the citizens?
Such are the so-called learned people and security experts who by their typical Ghanaian mind-sets are a disgrace to the nation and the black race. Is it how they were taught at school? Even if that was how they were taught, can't they do refresher courses to upgrade their knowledge to conform with new international standard regulations on security matters and conflict resolutions?
No wonder that black people are least respected in the world because most of us, especially black Africans, cannot apply their acquired knowledge sensibly. The professor is not abreast with the dynamics of security matters although, he teaches security management and so on and so forth. The security analyst waits for one to be arrested before coming out to ask questions without bothering to share views or offer advice or warning when the offender was threatening the nation and an important individual.
Ghanaians, please be discerning in order not to be deceived by these so-called professionals who may not be any match for their counterparts abroad in the international arena.
Rockson Adofo
Thursday, 11 June 2020