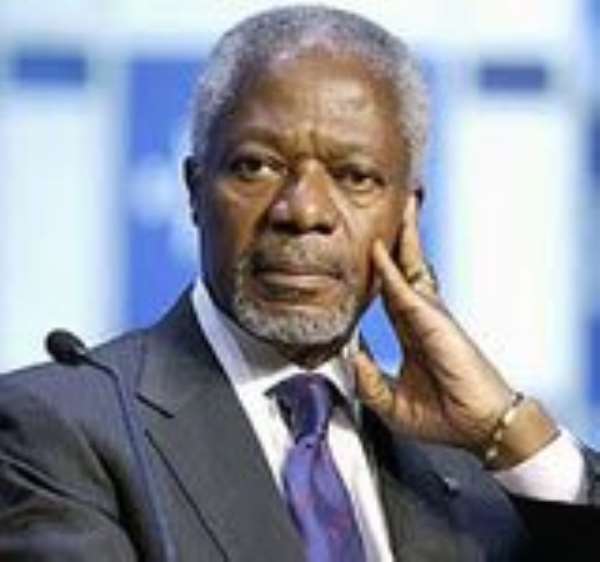 Accra, June 15 (The Statesman) -- United Nations General Secretary Busumuru Kofi Annan has given what is clearly an implicit endorsement for the controversial law that extends the right to vote to Ghanaians living abroad.
In a statement issued this week, the UN chief is asking for a global conversation about migrants, adding, "Also, more and more governments understand that their citizens abroad can help development, and are strengthening ties with them."
He continues, "By allowing dual citizenship, permitting overseas voting, expanding consular services, and working with migrants to develop their home communities, governments are multiplying the benefits of migration." He believes these policies are certainly in the right direction.
Meanwhile, here in Accra, the Electoral Commission is almost through with the modalities for the registration of Ghanaians living abroad for the December 2008 general elections, a source close to the Commission told The Statesman. To Ghana's foremost international diplomat, the extension of voting rights to citizens abroad must rather be seen as a constructive nation-serving engagement with the realities of globalisation and migration.
The UN General Secretary says that it is not a question of stopping the trends of migration, "but of managing it better, and with more cooperation and understanding on all sides. Far from being a zero-sum game, migration can be made to yield benefits for all."
The previous National Democratic Congress government saw this and acted accordingly with the introduction of the concept of dual citizenship into our laws.
Quoting figures to support reasons why the world must give the migrant all the privileges his home country can afford, the Secretary-General of the world body reveals that countries of origin benefit from the remittances totaling around $232 billion last year, $167 billion of which went to developing countries. He adds that this amount is greater in volume than current levels of official aid from all donor countries combined, though certainly not a substitute for it. He continues: "Not only have the immediate recipients benefit from these remittances, but also those who supply the goods and services on which the money is spent. The effect is to raise national income and stimulate investment. The UN General Assembly is holding a 'high-level dialogue' on migration and development this September.
Mr Annan's statement, which was published in full in last Monday's edition of The Statesman, expressed his appreciation of the significant role migrants are playing in helping develop not just the receiving countries, but also humanity as a whole.
In line with the Ghanaian-born UN Secretary-General's endorsement of dual citizenship and extension of franchise abroad, Ghana, at the moment, is in the process of developing such a frame-work to enable migrants to enjoy the full benefits of the sacrifices they have been making over the years, by having a say in the way their governments are elected and run. This is also in line with the constitutional provision on the right of every Ghanaian of 18 years and of sound mind to vote.
But, Mr Annan may not make too many friends in the camp of the National Democratic Congress and some members of Ghana's opposition parties for his acceptance in principle of the passage into law of Ghana's Representation of the People Amendment Act.
Since the unveiling of Government's determined efforts to breathe life into the constitutional provision and see Ghanaians living abroad have a say in who controls the nation's destiny, the main opposition party has lived up to its billing, opposing everything in sight.
Though not much ground has been covered in the effort to put the necessary structures in place since President Kufuor gave his assent to the law on Friday February 24, 2006, elements of the NDC, masquerading behind a supposedly non-partisan pressure group, Committee for Joint Action, has sought and continues to seek ways to obstruct the implementation of the law, citing reasons of possible bias, since its implementation would involve ambassadors and other officials appointed by the government in power, propitiously, the New Patriotic Party.
Prior to one of its Wahala demonstrations, Elvis Afriyie Ankrah, the NDC Deputy Secretary General announced that the party would "mobilize about 500 ex-servicemen, former members of the defunct 64 Battalion and other security minded personalities to protect the demonstrators", alleging, among others, that the Police Service was compromised. Support for the demonstrations was low, forcing the organisers to abandon their quest to perhaps destabilise the country.
The Electoral Commission now has the constitutional mandate to translate the ROPAA into action. Refreshingly, sources close to The Statesman indicate that serious meetings are taking place to discuss the modalities that will underpin the process, before the EC even seeks funding for the project.
In his statement to all member countries, Kofi Annan noted that ever since national frontiers were invented, people have been crossing them, not just to visit foreign countries but live and work there. In doing so, he further noted, they have almost always taken risks, driven by a determination to overcome adversity, and to live a better life.
According to him, those aspirations have always been the motors of human progress.
Indicating how migrants improve the lot of humanity, Kofi Annan argues:
"In receiving countries, incoming migrants do essential jobs which a country's established residents are reluctant to undertake. They also provide many of the personal services on which societies depend. They care for children, the sick and the elderly, bring in the harvest, prepare the food, and clean the homes and offices.
And they are not engaged only in menial activities. Nearly half the increase in the number of migrants aged 25 or over in industrialized countries in the 1990s was made up of highly skilled people. Skilled or unskilled, many are entrepreneurs who start new businesses – from round-the-clock corner shops to Google. Yet others are artists, performers and writers, who help to make their new hometowns centers of creativity and culture.
Migrants also expand demand for goods and services, add to national production, and generally pay more to the state in taxes than they take out in welfare and other benefits. And in regions like Europe, where populations are growing very slowly or not at all, younger workers arriving from abroad help to shore up under-funded pension systems.
All in all, countries that welcome migrants and succeed in integrating them into their societies are among the most dynamic – economically, socially and culturally – in the world."
He also noted that families with one or more members working abroad spend more on education and healthcare at home. If they are poor, receiving remittances may introduce them to financial services, such as banks, credit unions and microfinance institutions.
He disclosed in the statement that in some countries, migrant associations are transforming their communities of origin by sending collective remittances to support small-scale development projects.
"Successful migrants often become investors in their countries of origin, and encourage others to follow. Through the skills they acquire, they also help transfer technology and knowledge. India's software industry has emerged in large part from intensive networking among expatriates, returning migrants and Indian entrepreneurs both at home and abroad. After working in Greece, Albanians bring home new agricultural skills that allow them to increase production. And so on.
He admits, however, that migration can have its downside though, ironically, some of the worst effects arise from efforts to control it. According to him, it is the irregular or undocumented migrants who are most vulnerable to smugglers, traffickers and other forms of exploitation.
"Yes, there are tensions when established residents and migrants are adjusting to each other, especially when their beliefs, customs or level of education are very different. And yes, poor countries suffer when some of their people whose skills are most needed – for instance healthcare workers from southern Africa – are "drained" away by higher salaries and better conditions abroad.
He believes that countries are learning to manage those problems, and they can do so better if they work together and learn from each other's experience in line with the object of the "high-level dialogue" on migration and development that the General Assembly is holding this September. He assured that no country will be asked or expected to yield control of its borders or its policies to anyone else. All countries and all governments are however likely to gain from discussion and exchange of ideas.